South University Presents Healthcare Hero Series: Featuring Mable Smith, a Leader Known for Making a Difference
From serving as Col(s) and Chief Nurse of 413th ASTS in the US Air Force Reserves to her role as South University's Dean of the College of Nursing and Public Health, Dr. Mable Smith has one goal in everything she does: to make a difference in the world.
"We have so many opportunities each day," she says. "For me, it is about being able to reflect back at the end of the day and say did I go a good job? Did I make good decisions? If you can positively impact somebody every day, you've made a difference."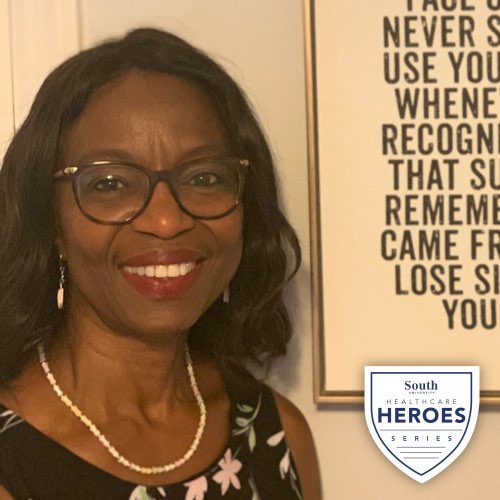 The Path to Nurse, Educator and Leader
From the start, Smith was drawn to the nursing field because of the focus on helping others. She'd long been interested in science and nursing seemed like a natural fit. After starting her career in 1980, Smith knew she'd made the right choice, with the field's opportunities for career advancement, interprofessional collaboration and chances to improve the lives of patients.
In her work, Smith focused primarily on medical-surgical and critical care nursing. "I like those areas because you see so many different things," she says. "You're using your critical thinking skills and it's always challenging. It's rarely the same thing day-to-day."
Beyond patient care, Smith also had an interest in teaching the next generation of nurses. She decided to pursue a Masters in Nursing with a specialization in nursing education followed by a PhD in Higher Education Administration. It was during her PhD that she took a class on law in higher education and felt a calling to also study law. "I absolutely fell in love with the type of thinking you have to do to understand the legal aspect of a case," she recalls. After finishing her PhD, Smith earned her Juris Doctor (law degree) in 1992.
"There's a lot in higher education administration that you need to examine from a legal perspective," she explains. "When something comes to my desk, I look for the pros and cons and I consider what the different arguments would be on all sides. I integrate this perspective into everything I do."
Equipped with her PhD and JD, Smith climbed the ranks of academia. She moved from instructor to professor, joined academic committees and worked as an administrative intern with a university president. In 2004, Smith landed the opportunity to start a new baccalaureate nursing program, an exciting and intriguing challenge that synthesized nearly all of her existing competencies. She worked with that university for a decade, overseeing the start, implementation and operation of four BSN programs, two of which were accelerated and incorporated an online learning platform.
In 2015, Smith joined South University, where she is the Dean and chief academic officer for the online and campus doctoral, masters, bachelor and associate programs in the College of Nursing and Public Health.
"Leadership is about developing people, having professional and caring interactions, and guiding people toward a common goal while removing barriers to success," she says. "Although the times have changed how we educate our students, we continue to be innovative to provide our students the learning opportunities to help them meet their goals. Being able to see administrators, faculty and students succeed is my internal reward."
A Life of Service
Beyond her academic leadership, Smith also serves as a Col(s) and Chief Nurse in the Air Force Reserves. "I love the Air Force core values – integrity first, service before self and excellence in all we do – and I strive to live by them," she says.
Smith has participated in the Air Force for over 16 years, with her previous deployments including time in Germany, where her ground medical unit played a key role in caring for military members before they were flown back to the US. During the current pandemic, Smith may also be deployed to help civilian or military hospitals provide care for the high influx of patients.
For those already deployed, Smith sends her gratitude. "Thank you for your devotion and dedication to our country," she says. "You are truly remarkable as you leave your loved ones to meet the needs of the nation."
Likewise, Smith expresses gratefulness to all healthcare professionals on the front line. "You are making a difference in the lives of your patients and colleagues, but you are not in this alone. We care and know that the world cares, from the patients you are serving, to the families of those who cannot be with their loved ones. Thank you, thank you, thank you!"