"My education has allowed me the honor of caring for people afflicted with devastating illnesses," says Sam Vafadar, a 2013 South University, Tampa, MS in Physician Assistant graduate and 2020 Alumni Achievement Award winner. "The beautiful frailty of life is something I am reminded of on a daily basis. H. Lee Moffitt Cancer Center & Research Institute is a place of hope, of sadness, of success, of inevitability. My role as a PA in all of those scenarios is to be a guiding advocate for the patient."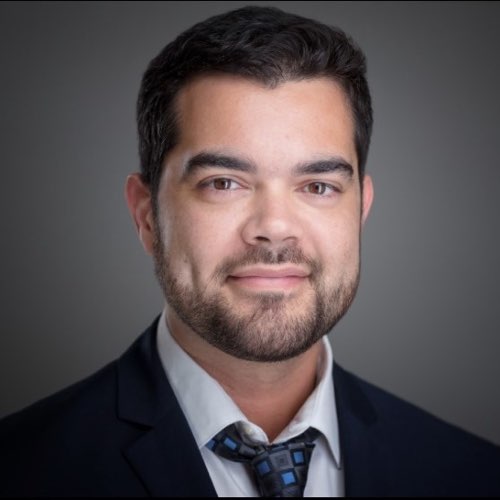 Working in the Thoracic Oncology Department at Moffitt, Vafadar cares for patients undergoing active treatment with chemotherapy, immunotherapy and experimental therapies under clinical trial protocols. He also evaluates patients who have completed treatment for long-term lung cancer surveillance. "I practice medicine alongside some of the brightest physician-scientists in the world, and I have the opportunity to participate in the oversight of clinical trials, some of which will lead to breakthrough cancer therapies," he shares.
Since joining Moffitt in 2014, Vafadar has been nominated for Advanced Practice Professional (APP) of the Year four times. He participates in their APP professional clinical ladder, STARS volunteer program and health care informatics committee meetings. Additionally, Vafadar is active with the Florida Academy of Physician Assistants, including participating in the inaugural Leadership Academy and advocating for expanded access to controlled substance prescribing (a joint group effort that led to legislation awarding Florida nurse practitioners and PAs dispensing authority in 2017). He has published two articles in The Journal of the American Academy of PAs, written newspaper opinion pieces, spoken at events, been interviewed on the role of PAs in healthcare and joined several advisory boards.
Now pursuing a Doctor of Health Science at Nova Southeastern University, Vafadar has clear future plans. "I hope to continue to make a positive impact in the lives of my patients, to advocate further for the PA profession and to do what I can to improve our US healthcare system."
Vafadar also remains connected with South University and his former instructors. "Each and every staff and faculty member at South University has left me with a positive impression of the professionalism that permeates the halls of the university," he says. "It was quite a change from a large university setting. In many ways, the faculty was almost like a second family. They took an active interest in my professional development and offered encouragement and guidance during the times when I felt like it was all just too much."
Recently, Vafadar taught a lecture on cancer immunotherapy to current students and also helped interview prospective PA students. "Think of your education not as a means to an end but an integral part of your life," he advises current students. "Your education may seem like only a short time, but it will leave a lasting impression."