2022 South University Alumni Achievement Award winner Nicole M. Meredith is an Operating Room Clinical Coordinator at Virginia Commonwealth University (VCU) Health. There, she's known for her high energy, can-do attitude, and enduring positivity that lifts the spirits of her patients and peers.

Nicole has been a nurse for nearly three decades and received several awards for leadership and development. She actively seeks new learning opportunities, embraces technology, and enjoys sharing her knowledge with others. She is a member of two honor societies and maintains three professional licenses and two nursing specialty certifications. In addition to having a business degree, Nicole earned her Bachelor of Science in Nursing (BSN) through the RN to BSN degree program at South University, Richmond in 2016.

"I chose South University because of its accelerated BSN program," Nicole recalls. "The flexibility of the BSN program schedule allowed me to continue to work full time as an open-heart operating room nurse without sacrificing time with my family."

Earning a BSN was something her employer, a magnet healthcare system, encouraged, and Nicole knew that advancing her education would help her to expand her positive impact on future nurses and her patients.

"South University provided real-life healthcare scenarios. It was easy to integrate textbook application into split-second decisions that we often encounter as nurses," she says. "Additionally, South University provided me with increased influence (from the bedside to the boardroom) where other key influential decisions are made."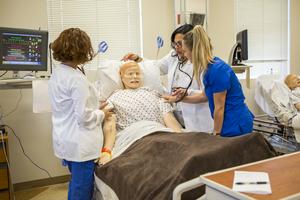 At the University, Nicole found both intellectual stimulation and a shared vision among her classmates, who came from a wide array of specialties. "Everyone's unique perspectives made projects challenging and enjoyable," she recalls.

Her classes included many other adult learners, some of whom had been out of school for 20+ years. Whenever someone had to work late, an unexpected family event occurred, or life otherwise got in the way, the course instructors were understanding and empathetic. Nicole also appreciated their professional knowledge, passion, and commitment.

"South University's faculty are experts in their areas of practice. I love that they are not removed from the real world of nursing," she says. "I am grateful for their integrity, feedback, and encouragement throughout the program."

Today, Nicole is a VCU~Johns Hopkins nursing evidence-based research scholar and has given presentations locally and nationally, including at VCU's annual perioperative conference. She is active in several professional nursing organizations, including advocating for nursing and patient safety legislation, and has twice been president of the Association of Perioperative Registered Nurses Richmond chapter. She was the first (and is the only) RN appointed to Virginia's Board of Medicine Surgical Assisting Advisory Board. She is also a published co-author for the Virginia Department of Education Office of Career and Technical Education career clusters.

During the peak of the pandemic, in addition to her VCU job, Nicole worked as the Open Heart Coordinator at a local faith-based healthcare organization and at a level-1 Trauma Center in her spare time. She has volunteered for numerous nonprofits that offer free pop-up clinics and that provide housing, food, and other comforts for patients and their loved ones. When Covid-19 vaccines became available, Nicole also volunteered to work in vaccine clinics across the community.

Since earning her nursing degree, Nicole has referred several colleagues to the Richmond BSN program, of which she is proud to be a graduate. "South University is the key that has unlocked my professional possibilities," she says. "South prepares leaders to perform beyond their expectations."

Grads: Share Your Story with South University!
If you're a South University graduate and want the chance to see your accomplishments featured, log in to our Alumni Site and click Share Your Story in the Alumni Success section.


South University, Richmond, and South University, Virginia Beach, are certified to operate in the Commonwealth of Virginia pursuant to Title 23, Chapter 21.1, §23-276.4 of the Code of Virginia by the State Council of Higher Education for Virginia (James Monroe Building, 101 North 14th St; Richmond, VA 23219; 804-225-2600; www.schev.edu).