2020 South University, Savannah Doctor of Pharmacy graduate Kelsey Metts chose a career in pharmacy so that she could help patients directly through personalized daily interactions. Today, Kelsey is a Clinical Pharmacist Practitioner (CPP) in the United States Department of Veterans Affairs (VA). Kelsey focuses on primary care and women's health and was recently named Clinical Pharmacist of the Year at her facility.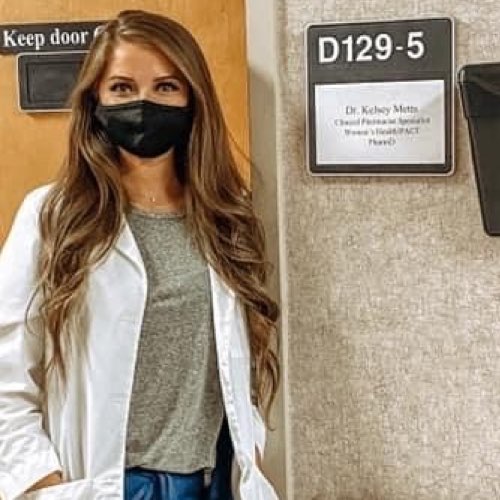 "The gratification that comes with serving Veterans is indescribable. This particular group of patients has served me and my fellow Americans far before I was ever able to serve them," she says. "I will never be able to repay them for the sacrifices they made for our country, but being able to serve them in the clinical setting allows me to give back in the highest capacity of my current role."
Kelsey began working for the VA in a PGY-1 (post graduate year 1) residency program. After completing the residency, Kelsey stayed on as a full-time Clinical Pharmacist Practitioner at the VA Medical Center. The CPP role at the VA offers Kelsey autonomy in clinical assessments and plans as well as the authority to prescribe medications for the chronic disease states and women's health matters that she manages.
"South University prepared me for residency through its residency committee, strong ambulatory care based courses, and having access to multiple professors who were always willing to be an aid in the residency process," Kelsey says.
Kelsey is also active in the American Society of Health-System Pharmacists (ASHP), an organization she first participated in as a student member during pharmacy school.
While earning her Doctor of Pharmacy (PharmD) degree at South University, Kelsey also enrolled in South University's Master of Business Administration (MBA) program (which she completed in early 2022). In fact, having the option to enroll in a dual PharmD/MBA program was part of what attracted Kelsey to South University's PharmD program in the first place. She appreciated that the 3-year PharmD program would allow her the opportunity to start her career sooner, while the MBA program could help her to specialize in the administrative side of pharmacy. By having both PharmD and MBA degrees, Kelsey believes she will be a more competitive candidate for positions in the field.
Reflecting on her time as a South University student, the support of one School of Pharmacy faculty member stands out to Kelsey in particular. "Through my Advanced Pharmacy Practice Experience with Dr. Marisa Strychalski, PharmD, BCPS, BCACP, I found my love for the VA. Dr. Strychalski served as both a mentor and role model for me through my pharmacy school experience" says Kelsey. "I can easily say that a large part of my current career is due to Dr. Strychalski's mentorship, and for that, I am forever thankful."
Another School of Pharmacy team member Kelsey is thankful for is Gabriella Fischer, Assistant Dean of Student Affairs, who gave her the advice: 'Learn to bloom where you are planted.'
"This piece of advice has been more influential to me than she probably even imagined at the time," says Kelsey. "If someone told me years ago that I would hold the exact career I hold now, I would not have believed them. However, now, I could not imagine serving in any other capacity. Because I learned to bloom where I was planted, I ended up planted right where I belong."
Outside of her work at the VA, Kelsey strives to be a mentor to first-generation college students, whose challenges she understands from her own first-hand experience. "Fellow first-generation students will know what I am saying when I say that it is difficult to find an 'in' to a career that requires higher education," she shares. "I realize the unique challenges those students face and make it a personal mission to reach out and be a mentor to those in the same situation, whether their career choice is pharmacy or not. I have also found that learning to overcome those barriers allowed me to build foundational skills in learning to face any obstacles head-on and help my colleagues achieve the same."
Learn more about how our School of Pharmacy program can prepare you for your Pharmacy career today.
Calling all South University grads! If you want the chance to see your accomplishments featured on our site, log in to our Alumni Site and click Share Your Story in the Alumni Success section.