January 21, 2021 - South University is proud to serve the Austin-Round Rock (or Central Texas) area with our staff and nursing students helping to support the administration of the first 3,000 doses of COVID-19 vaccines locally.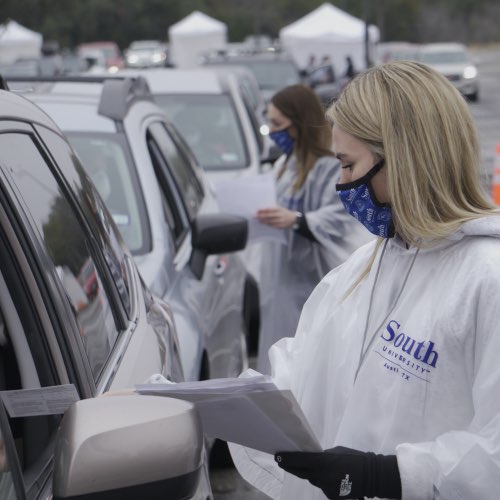 Dr. Marlene Meador, Nursing Program Director for the Bachelor of Science in Nursing program has worked closely with Jennifer Patton from Family Emergency Room to offer our team's service to support the vaccine roll-out.
Jeff Musgrove, President of South University, Austin shared that "We are excited to support this next phase of vaccinations in order to help protect even more of our community. We recognize the urgent need to get vaccines to our community members, so we are working with our staff and with community partners to safely and efficiently ramp up our vaccination efforts."
South University offers several Nursing programs - our students appreciate the flexible schedules and options available to them no matter if they are beginning their nursing education or if they are looking to further their education to support their career goals.
South University's Austin campus is located in Round Rock - our students enjoy smaller class sizes with individualized support from faculty. Our professors get to know our students and are dedicated to helping them achieve their goals.
For more information about South University's Nursing program, please contact our admission team at (512) 516-8800 or visit us at SouthUniversity.edu/Austin
Media Contact:
media@southuniversity.edu
Programs, credential levels, technology, and scheduling options vary by school and are subject to change. Not all programs are available to residents of all U.S. states. South University, Austin, 1220 West Louis Henna Blvd., Round Rock, TX 78681. © 2021 South University. All rights reserved.