South University's Quality Enhancement Plan
South University Launches the SACSCOC QEP Project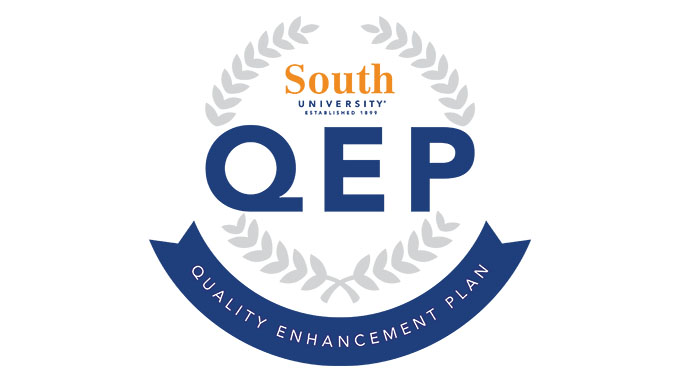 As part of South University's reaffirmation and accreditation by the Southern Associate for Colleges and Schools Commission on Colleges (SACSCOC) the Quality Enhancement Plan (QEP) has been launched. The QEP will introduce a five- year plan to implement and access our efforts to improve the success of South University students. The QEP will initially be led by a team of diverse faculty and staff from across the university. This committee will bring forward a slate of potential QEP topics that will be finalized through a survey of all faculty, staff and students. The intent of the QEP is to be inclusive of all members of the university community. After the topic is identified, the QEP committee will share the details as well provide regular updates on progress. If there are questions regarding the QEP, please contact the directors of the QEP Dr. Laura Rodriguez-Kitkowski, lrodriguez-kitkowski@southuniversity.edu, Dr. Jason Crittenden, jcrittenden@southuniversity.edu@southuniversity.edu, or Dr. Valarie Trimarchi, vjtrimarchi@southuniversity.edu.
The QEP, and we look forward to working together to achieve university-wide success.


QEP Update 1/31/2023- The Quality Enhancement Plan (QEP) Survey has launched!
As part of the SACSCOC reaffirmation process, we are happy to announce that the survey to identify our QEP topic has been launched. To keep in the spirit of inclusion, and in meeting SACSCOC expectations, we are inviting responses from all members of the University community, including, students, alumni, faculty and staff. The survey will be open from Tuesday, January 31st through Tuesday, February 21st. The survey was sent to all members of our community via email and has also been added to BrightSpace under "Announcements." We encourage everyone to participate in this survey as your vote is important to the development of the South University QEP. Please encourage your colleagues and students to respond as well. An announcement will be made as soon as the survey is closed and the topic identified. At that time, we will be looking for other members of our community to join the work in developing and implementing the QEP.