Human Resources Management
Degree Overview
Master of Science in Human Resource Management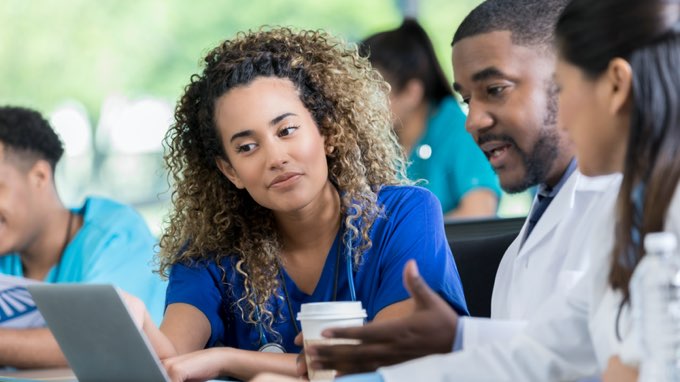 The role of Human Resources has evolved. As many people working in the field know, strategic Human Resources Management (HRM) is not just about hiring and firing, it's about applying the principles of leadership to help companies grow and succeed. Throughout the program, the MS in Human Resources Management program focuses on how to meet organizational goals by managing human capital and applying best-practice. South University Tampa's Masters of Science in Human Resources Management (HRM) degree program explores the many roles successful HR Management professionals must master, including key topics such as: employment and labor laws, generally accepted business and ethical principles, HR planning and measurement, and consultative approaches to change management.
This graduate-level degree program is open to students who have earned a Bachelor's degree in any field of study and is designed for working professionals.
Admission Requirements
Admissions Criteria for the Master of Science in Human Resources Management (MSHRM) are as follows:
Prospective students are required to submit the following:
Application form
Official transcripts for bachelor or graduate degree granting institution.  (All credentials earned outside the United States must be evaluated by a NACES or AICE-member credential evaluation service).  Please speak with an admissions representative for more information.
Specific requirements for admission to classified graduate status are:
A bachelor's degree from an accredited college or university.
Completion of application for admission.
A 2.7 overall grade point average or higher on completed requirements for the baccalaureate degree, or, an earned graduate degree from an accredited institution with a CGPA of 3.0 or higher.
Provisional Admission:
Applicants with an undergraduate degree CGPA of less than a 2.7, but not lower than a 2.3, or a graduate degree CGPA of less than 3.0, but not lower than a 2.7,  will be considered for provisional admission.  Students who do not attain a 3.0 GPA in the first quarter will be dismissed. Students cannot appeal the dismissal from the university as a result of failure to meet the conditions of provisional admission.
Course Requirements
Master of Science in Human Resources Management: 48 Credits
Elective (Choose one course from the following):
Outcomes
Offered at Austin, Online Programs and Tampa.
Note: Not all Online Program offerings are available to residents of all U.S. states. Please contact an admissions representative for further information.
The Masters of Science in Human Resource Management (HRM) degree program explores the multiple roles of HR practitioners, as well as the concepts, strategies and structures that impact and constraint organizations and its stakeholders.  The graduate program examines the functional areas of HRM, employment and labor laws, generally accepted business practices, ethical principles, HR metrics and measurement and change management using consultative approaches through effective organizational leadership.  Emphasis is placed on managing human capital and applying best-practice tools to meet organizational mission, goals and objectives.  The program is identified as being aligned with the Society for Human Resource Management recommended minimum standards for degree-based coursework in human resources and integrates the Human Resources Competency Model components.
The Master of Science in Human Resources Management program is delivered in two modalities: fully online and blended. Students enrolled in the blended modality meet face-to-face in the classroom and asynchronously online on alternating weeks over the 11-week quarter.
Program Student Learning Outcomes
Graduates will be able to:
Evaluate strategic HRM practices and procedures in a systematic manner, including employee and labor relations, workplace safety, health and security, and global programs in terms of human and financial impact (direct and indirect) on the organization and in consideration of  the local, national and global environment.
Apply ethical principles, generally accepted business practices, and employment and labor laws with stakeholders in the decision- making process about HR policies, practices, or initiatives.
Demonstrate the contribution of human resource planning, management and diversity initiatives to organizational stakeholders using generally accepted HR metrics and measurements.
Define staffing (recruitment and selection), training and development, retention and performance management concepts, processes and policies as part of an integrated whole, and not as an isolated functional area of HRM to develop programs that meet broader organizational needs and enable the organization to maintain a competitive advantage.
Develop classification, compensation, and benefits both direct and indirect that meet the strategies and constraints of the organization and its environments.
Analyze organizational development and change management principles using consultative approaches to realize the Human Resources vision through effective organizational leadership.
Request Information
Fill out the form and a representative will contact you today to better understand your academic goals plus answer any questions you may have.
Campuses offer flexible learning formats including:
on-campus, virtual instructions and online courses.
Success! Your request was submitted. We'll be in touch soon!
In the meantime, you can view some of our FAQs
If you want to talk to an admissions representative ASAP, please contact us at 1-888-444-3404
Success Stories
Outstanding Education for Remarkable Careers
We're committed to helping our graduates make impact in their professional and personal lives. We applaud our business and technology alumni and the difference they make.