Master of Public Health
Degree Overview
Master of Public Health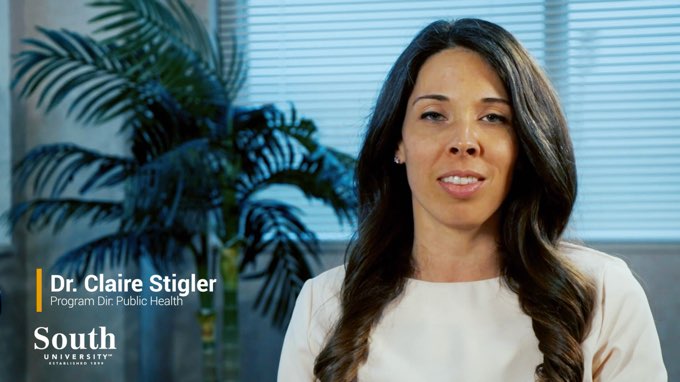 As part of the public health courses at South University, you'll learn about public health, and its many topics on a local, national, and international scale. During the Master's Degree in Public Health class discussions, research, assignments, and one-on-one interactions with the public health faculty, you'll have the opportunity to learn how to handle health-related issues like controlling infectious diseases, improving access to healthcare, and reducing environmental hazards. The Master's degree program at the Montgomery campus culminates in a practicum experience in which you apply your new knowledge, skills, and abilities around public health science to a real-world public health setting, such as a government or social service agency, community or public health organization, or other approved business*.
*South University does not promise or guarantee employment.
Admission Requirements
Procedure for Admission to the Master of Public Health
The criteria used in determining admissions to the Master of Public Health degree program include:
Completion of a bachelor's degree from an accredited institution, with a cumulative grade point average (CGPA) of at least 2.7 (on a scale of 4.0) OR
An earned graduate degree from an accredited institution with a CGPA of 3.0 or higher.
Submission of official transcripts from all postsecondary institutions attended within 5*/10 weeks after the official start date. *Effective March 22, 2022 - Students beginning classes at the Montgomery campus or High Point Off Campus Instructional Site will have five weeks to submit acceptable documentation. ​*Effective April 1, 2022 - Students beginning classes at the Richmond and West Palm Beach campuses will have five weeks to submit acceptable documentation.  *Effective May 31, 2022 - Students beginning classes at the Tampa and Orlando campuses will have five weeks to submit acceptable documentation. *Effective July 12, 2022 - Students beginning classes at the Austin and Columbia campuses will have five weeks to submit acceptable documentation. *Effective August 16, 2022 - Students beginning classes at the Savannah and Virginia Beach campuses will have five weeks to submit acceptable documentation.
Provisional Admissions: A cumulative GPA of 2.5 -2.69. Students must receive a final course grade of B or better in all public health courses for the first two terms/quarters to be fully admitted into the MPH program.

Provisionally admitted students are permitted one attempt per course for the first two terms/quarters. Students who do not receive a final course grade of B or better in all public health courses will have the provisional admission rescinded. There is no appeal for rescinding provisional status.
Once all required admissions documents and information are submitted, the application will be reviewed and evaluated by the MPH Program Director for final admission decision.
Career Outlook
As a graduate of the MPH degree program, you'll be ready to pursue a variety of public health positions, including:
Medical and Health Services Managers
Health Educators
Community Health Workers
Course Requirements
Master of Public Health Degree Program: 56 Credits
Principal Courses: 32 Credits
Practicum Experience: 4 Credits
Outcomes
Offered at South University, Atlanta , Montgomery, Online Programs, Savannah and Virginia Beach but all classes will be offered only in an online format. Fully online programs can have a ground clinical or practicum experience.
Note: Not all Online Program offerings are available to residents of all U.S. states. Please contact an admissions representative for further information
The Master of Public Health (MPH) degree program at South University is a 56-credit program designed to educate students and working professionals about areas of critical importance to local, national, and international public health challenges. The MPH program is organized around a curriculum which consists of core competencies, principal courses, and a practicum experience. The core courses cover the five main areas of public health competencies.  The principal courses are designed to cover a broad range of topics to help develop each student's knowledge, skills, and abilities in public health practice and to further develop the skillsets of working professionals in the public health field.  Lastly the students take part in a practicum experience that synthesizes information learned throughout the program and as such should be taken as the last course in the program.  
Mission Statement
Our public health program is dedicated to preparing an inclusive community of practitioners, educators, and scholars who are committed to working in their communities to promote health equity for all.
Vision Statement
A future where everyone regardless of their background, location, or income, has the potential to lead the healthiest life possible
Core Values
Health Equity: The program is committed to creating an environment where all individuals can reach their full health potential. Students are empowered to address health challenges across various populations, equipping them with the skills to improve the quality of life and access to healthcare. This includes understanding the difference between health equality and equity, recognizing and addressing the lack of resources such as funding, transportation, and social conditions that impact health outcomes. 
Community-Based: The program emphasizes a community-based approach to public health. It focuses on local communities, particularly those with limited resources and in need of greater capacity. Students are trained to work closely with community members, informing policy makers, and engaging distance-based stakeholders with limited accessibility. The program aims to address health disparities and support populations that have historically been underserved or marginalized.  
Practice Approach: The program prioritizes training students to work in professional practice. It prepares students to tackle real-world situations and meet the needs of communities through assessment and partnership with community members. Students are encouraged to become change agents and actively engage in community-based participatory practices. They are equipped to explain public health concepts effectively within the community setting and contribute to practical solutions. 
Inclusion: The program is committed to fostering an inclusive environment that supports students from non-traditional backgrounds and those with limited access to opportunities. It seeks to ensure that participatory engagement within the program reflects the communities students relate to. The program actively seeks to include students who may be overlooked or lack access to other public health programs, providing them with the necessary means to pursue education and contribute to the field.
Program Goals:
Teaching: Provide a competency-based curriculum that equips students to practice in communities, to promote public health, and to address health equity issues.
Service: Empower students to work with communities and implement public health practices with cultural humility and respect.
Scholarship: Promote health equity in communities by engaging in scholarly activities and preparing students to apply scholarship in public health practice.
Program Student Learning Outcomes
Graduates should be able to:
Apply evidence-based approaches to both quantitative and qualitative data collection methods appropriate for given public health contexts.
Examine the organization, structure and function of healthcare and public health systems both nationally and globally. 
Design culturally responsive population-based health programs, policies and community interventions. 
Communicate audience-appropriate public health content, both in writing and through oral presentation
Advocate for policies and programs that will improve health in diverse populations, including factors that undermine efforts to achieve health equity
success stories
Outstanding Education for Remarkable Careers
We're committed to helping our graduates make impact in their professional and personal lives. We applaud our nursing alumni and the difference they make. Check out what some of our graduates have to say.