Some people are on a constant quest to better themselves and the world around them. Gene Ramsey, 2017 Master of Science in Leadership graduate of South University, is one of those people. "I know it's never about the leader or manager but rather the movement or vision. I firmly believe in helping others," says Ramsey, a 2019 recipient of the South University Alumni Achievement Award.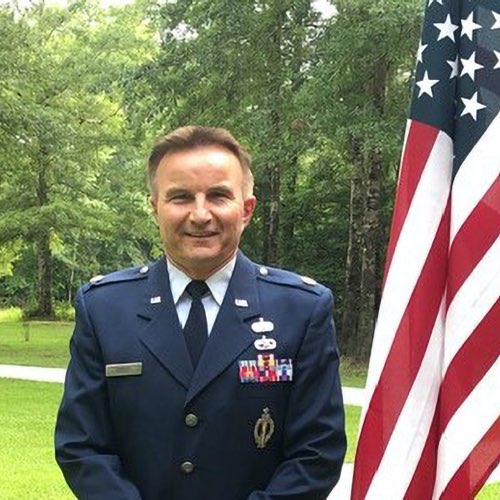 Ramsey decided to earn his master's degree in leadership online at South University after retiring from the US Air Force and becoming a military defense contractor. He was a highly decorated 21-year veteran who had served in Operation Enduring Freedom and held important leadership roles in the 21st Space Wing and Air Force Space Command. He already had two associate's degrees, a bachelor's degree and a master's degree. Still, he was driven to learn more and continue improving his business and leadership skills.
During his master's program, Ramsey balanced school with working full-time at the Navy Yard. He juggled time out at sea, mandatory career certification training and filling in for two department directors on extended absences, but still performed well in his career and his studies—something he chalks up to being intentional in all his endeavors. "Intentionality keeps you focused, grounded and on the path to success both in education and in life," he advises.
After graduating with a 3.9 GPA, Ramsey was soon placed in a leadership role to improve organizational culture. "I was charged with creating team synergy, increased collaboration and cultural change," he says. "Fortunately, my education from South University provided me insight into the importance of emotional intelligence, team development and intervention planning and execution."
As the Navy Yard Landing Platform/Dock (LPD) Ship Production and Waterfront Deputy Director, Ramsey identified desired values, behavior and outcomes for his team and then developed a road map to achieving his vision. Ultimately, Ramsey was able to successfully increase his team members' motivation, performance and engagement.
Today, Ramsey continues to help his team collaborate across disciplines and maintain job satisfaction. Believing strongly in the power of mentoring and education, he also encourages others to continue their professional and academic development. "My education has allowed me to achieve great earning power and provide a high quality of life for my family," he says. "I have been afforded numerous opportunities to take on management and leadership positions. Additionally, I have been able to help others succeed."
In particular, Ramsey considers himself an ambassador for South University. "The outstanding course material and professors are the main reason I tell everyone I can about South University, especially military veterans," he explains. "I have been most impressed with the ease of using the Post 911 G.I. Bill, the quality of education and the excellent faculty. My instructors challenged me to stretch beyond my goals and expectations, and I am forever grateful."