Nurse practitioner, professor, victim advocate – Charitta Ernewein, DNP, ARNP, FNP-C, is a committed and passionate professional in every role she undertakes. A member of the first MSN class and then the first DNP class to graduate at South University, Tampa (in 2012 and 2015 respectively), Charrita has been practicing as a nurse since 1988.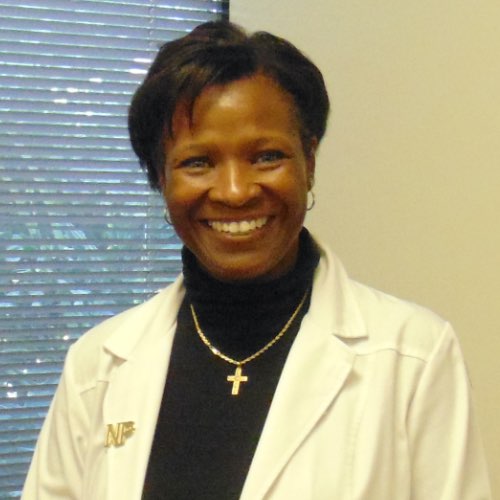 Today, Charrita juggles multiple roles in the nursing field. In the School District of Hillsborough County, she is a nurse practitioner for over 30 schools, with duties that include managing and training school nurses, conducting physicals, and training staff on human trafficking recognition and risk factors. She also serves as a nurse practitioner in two urgent care centers and as a Sexual Assault Nurse Examiner at the Crisis Center of Tampa Bay. Charrita is also an Adjunct Instructor at South University, Tampa, where she says she teaches as a way of giving back to the school where she was trained.
Beyond working as a nurse and instructor, Charrita is active in professional organizations and in the advancement of her field. In 2015, she co-published "Human Sex Trafficking: Recognition, Treatment, and Referral of Pediatric Victims" in The Journal for Nurse Practitioners. She is also president of the Tampa Bay Advanced Practice Nurses Council (TBAPNC) and recently traveled with the group to Tallahassee in support of Florida House Representative Dr. Cary Pigman's (MD) House Bill 607: Health Care Practitioners. A lifelong learner, Charitta is currently enrolled in a Doctor of Philosophy (PhD) in Nursing at the University of Central Florida.
With her combined professional responsibilities and activities, Charrita's schedule is a busy one, but she doesn't want it any other way. "Being a military wife, I already had the opportunity to work all over as a nurse in many specialties," she says. "Now that my children are older, I am focused on helping others, training the next generation of nurses and nurse practitioners, fighting human trafficking, and influencing the policies that affect my profession."
To find out more about our Nursing Programs, please visit: https://www.southuniversity.edu/degree-programs/nursing