South University, Tampa Doctor of Nursing Practice (DNP) 2020 alumna Dr. Linda Baker is an acute care hospitalist nurse practitioner. At the Veterans Administration Health Care System in Columbia, SC, Linda is a Nursing Standards and Practice board member and the leader of the accountable care unit team. In her work, she collaborates with a variety of interdisciplinary healthcare professionals to care for the inpatient veteran population.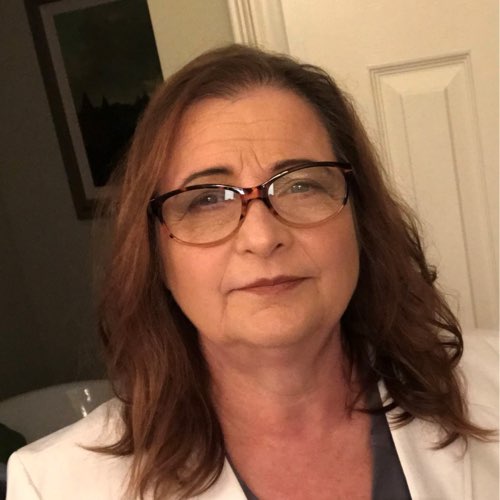 "Acute patient care as an independent licensed practitioner is at the forefront of what I do every day," she explains. "Not only are the patient cases complex and interesting, but the system problems we encounter as caregivers are challenging. There are infinite issues and ways to problem-solve every day."
Linda entered the nursing field with a diploma. She remembers being in school at 20 years old, and her instructor saying that nursing was a career where education and learning were life-long commitments. She didn't believe it at the time. "I was one of those floor nurses who swore she would never go back to school for a BSN," she recalls. Yet, the longer she worked in nursing, the more her mind was swayed. "When my husband finished his master's degree, I started taking classes and didn't quit until 40 years later with the DNP," Linda says. "I believe there are new ways to learn and still so much more to learn."
Linda began her career working with pediatric ICU patients. She then took a perioperative course at the hospital, and the operating room became her home away from home for the next 10 years. She went on to earn her BSN and MSN as well as teach surgical assisting and the perioperative course at the college level. After becoming a program director and working alongside colleagues with doctoral degrees, Linda decided that she wanted a Doctor of Nursing Practice (DNP) degree.
Linda chose South University, Tampa to pursue her DNP because of its blended on-ground and online learning format, which helped her to balance her education with her full-time work and family time. "My children remember me taking books to their sporting events and not being able to go out to eat every night because time and money were tight," says Linda. "But they all graduated from college and are gainfully employed. They say they watched me do it, so 'How hard could it be?' Now they are considering master's degrees in their fields. I am very proud they noticed."
At South University, Linda appreciated that her instructors and courses challenged her to learn and grow. "The university gave us the tools and the freedom to learn experientially," she says. "Classes were not simple and we were expected to come prepared, ask questions and participate fully. We were treated as peers."
She also enjoyed getting to know her fellow students and how the courses fostered camaraderie across the group. "I cannot stress how important and supportive our cohort was for all the DNP candidates," she emphasizes. "The diversity of the cohort was paramount to the exchange of ideas and depth of experience we shared."
As for the value of earning her DNP, Linda says she has gained a new perspective on her profession. "I now understand how advocacy moves nursing forward. As APRNs we have to work on gaining a voice in hospital governance if we are to truly practice under the full extent of our education and training. Advocating for the profession ensures the future."
Earning a DNP has also changed how she sees the hospital and her role within it. "It is a system with opportunities to change, grow and improve if nurses put time and effort into solving the problems that exist," she shares. "I also see my patients differently. They see the DNP initials behind my name and trust their care to me. I have to continually improve my practice to give them the best care I can."
For incoming and current nursing program students, Linda advises that resilience, a focus on the big picture and a good self-care regiment are paramount to success. "Obstacles seem very tough and insurmountable at the time you are struggling," she says. "Those times become the stories about how you made it through at the end. Being both kind and forgiving to yourself goes a long way."
If you are interested in pursuing a new goal or advancing your education, explore our programs today! Or, take a minute to request information from a South University representative who can help guide you in the right direction for building skills that prepare you to pursue your professional goals.
Would you like to share your experience with South University to feature your story and accomplishments? Log in to our Alumni Site and click Share Your Story in the Alumni Success section!