South University Doctor of Pharmacy (PharmD) student at South University, Columbia, Mia Turner has always wanted to work for the Centers for Disease Control and Prevention (CDC). "That has been my dream since I was little," she says. Now Mia is one step closer to this goal, having obtained a spot at a competitive pharmacy rotation with the CDC starting in the fall of 2021.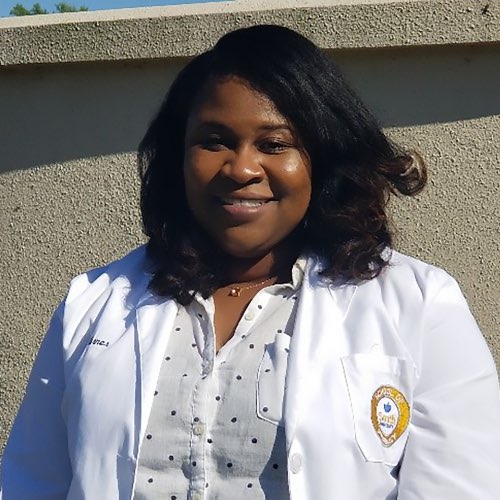 Currently, Mia is a Disease Intervention Specialist for the South Carolina Department of Health and Environmental Control, where she's worked since 2012. In this role, Mia particularly enjoys her work helping HIV patients and eventually came to notice that many of her patients encounter issues with their medication regimen. As a result, Mia became drawn to the pharmacy field. Her interest in medications and patient care led Mia to the School of Pharmacy at South University, where she enrolled in our 3-year PharmD program.
"I have a unique perspective of what actually works at the local health departments. People who are making policy changes don't always have the experience to know what it's like to be dispensing these medications and talking to people who have absolutely no medical background about what they need to be doing, why they should be on this regimen and those sort of things," she says. "I'm trying to combine my experience and my PharmD to get more involved with policy and really make an impact. That's my biggest goal. I want to make an impact."
As a South University Pharmacy student, Mia is already making an impact. For example, she is the secretary of the Student National Pharmaceutical Association's (SNPhA) National Operation Immunization Subcommittee. She is president of the Columbia, SC chapter of the pharmaceutical fraternity organization Kappa Psi. She has also participated in the South University HIV Prevention Design Team Pilot Project, earning a certificate of recognition from the HIV/AIDS Network Coordination.
Her participation in school and professional organizations has also allowed Mia to build strong connections and get feedback from others in the field. "Getting involved really made all the difference in my experience in pharmacy school," says Mia. "I have met and been introduced to some people that I know will be in my life forever, especially the upperclassmen here who have passed down so much helpful advice."
During her time at pharmacy school, Mia has earned several notable certifications, including the American Pharmacist Association's Pharmacy-Based Cardiovascular Disease Risk Management and Immunization Delivery, SNPhA's Tobacco Cessation Behavior Counseling and Pharmacotherapy, and Question, Persuade, and Refer Institute's Suicide Prevention Gatekeeper certification. Recently, she was invited to present her research project "Examining connections between HIV Pre-Exposure Prophylaxis prescribing parameters and literacy rates among Georgia counties" at the Georgia Society of Health-Systems Pharmacists Spring 2021 Meeting.
For her upcoming clinical experience with the CDC, Mia will undertake projects related to dispensing and delivering HIV prevention medication through telehealth services as well as other HIV prevention strategies and care services. Her schedule at the CDC will include attending postdoctoral fellows meetings, New Health Scientists Seminars, Grand Rounds, and Health Equity Journal Clubs. Mia will also have the opportunity to participate in the United States Conference on HIV/AIDS in October 2021.
"I want to be involved in every aspect that they could possibly allow me to be," says Mia. "I'm just hoping to learn as much as possible and get a hands-on feel for what it may be like to work at the CDC, what I would call my dream job. I want to see also what other steps I need to take right now to make sure that, once June 2022 comes around and I graduate, I'm one step closer to obtaining my ultimate goal."
South University congratulates Mia for her continued contributions to the healthcare landscape and her success in securing her upcoming rotation with CDC. We are proud of her for serving as an example of the roles pharmacy students and pharmacists play in wellness promotion and helping our communities to thrive.
Are you curious about the pharmacy field? Do you have a passion for health, science and helping others? A pharmacy career could be right for you. Learn more about the South University 3-year Doctor of Pharmacy program today.