CEO and Owner of the Blue Horizon Medical Clinic, Dr. Sharon Blue is a South University Alumni Achievement Award Winner and a two-time South University, Tampa graduate, earning a Master of Science in Nursing (MSN) in 2012 and, most recently, a Doctor of Nursing Practice (DNP) in 2021.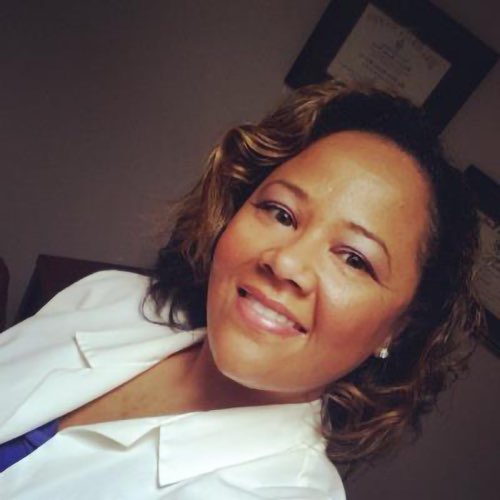 "I have always aspired to help others and I felt that South University's vision and mission matched my life goals," she says. "I listen to my fellow colleagues or others talk about problems they face with other Universities and I always tell them to enroll in South University."
A current member of the Tampa Bay Advanced Practice Nurses Council and the Florida Nurses Association, Sharon has always been interested in healthcare. Even as a teenage candy striper, she researched all of her patients' illnesses, striving to learn everything she could to help them. Sharon planned to become an RN after high school but life got in the way, so she earned an LPN instead. Then, 10 years down the road, she earned her BSN as well. With that degree in hand, she felt inspired to continue on and become a nurse practitioner.
She chose South University for her master's degree partly because the program was designed to accommodate students with jobs and families, but also because another student had told her about the school's small class sizes and its dedication to students. "During my MSN tenure, I was amazed at how much the professors listened, respected and really developed a rapport with the students," she says. "They made the information fun to learn and I constantly left wanting to get my assignment done and make them proud."
Sharon also appreciated the empathy and understanding shown to her when her dad had a stroke while she was a student. "I realized how blessed I was to be enrolled at South University and being instructed by such wonderful and caring faculty," she recalls.
After earning her MSN, Sharon started Blue Horizon Medical Clinic with her husband Robert. As an advanced practice registered nurse (APRN) who is board certified in adult primary care, Sharon offers overall mind and body wellness programs to adult and geriatric patients in settings that include the office, home, skilled nursing facilities, assisted living facilities, transition/drug rehab programs, and HIV/AIDS treatment and awareness programs.
Still, despite the accomplishment of opening her own practice, Sharon heard a voice in her head saying she could do more. Having had a great experience in South University's MSN program, she decided to return for her Doctor of Nursing Practice (DNP).
"I was motivated and inspired by the professors I encountered at South University. I was amazed at how much they do within the nursing field such as advocacy, teaching, community outreach and leadership," she shares. "They don't just teach you what is in the books but they teach from personal experiences. They challenged me to be more inquisitive, think outside of the box, and be a leader in whatever I do in nursing, whether in a bedside clinic, research, healthcare advocacy or leadership."
With experience in primary care, mental health, pain management, geriatric medicine, rheumatology and long-term care, Sharon gives back to her community by providing care to those in underserved populations such as under or uninsured, homeless, mental health, HIV disease and risk prevention, and addiction/transition care. She also enjoys mentoring and precepting fellow nurse practitioner students. At her practice, she employs another South University, Tampa grad, Latoya Sinclair, who earned a Master of Science in Nursing with a specialization in Family Nurse Practitioner in 2020.
For current students and those considering attending nursing school at South University, Sharon advises, "You can accomplish anything you set your mind to. All you have to do is tackle every task with an open mind, passion, dedication and the confidence knowing you will overcome and succeed."
If you're interested in starting or growing your career in nursing, explore our nursing programs today! Or, request information to talk with a South University representative about how our programs could help you pursue your goals.
If you're an alum and want to see your accomplishments featured, here is your chance! Log in to our Alumni Site and click Share Your Story in the Alumni Success section.