In 2013, Dedra Simmons was feeling frustrated about her prior schooling and future career options. She needed a change from working in foodservice and her cousin had advised her to call South University. "I called and spoke to one of the best academic counselors I have ever worked with," she says. "He advised me on South University's programs, policies, financial aid, loans, and most of all he listened to me and respected my choice to start my associate degree in Allied Health Science. From there, my journey began"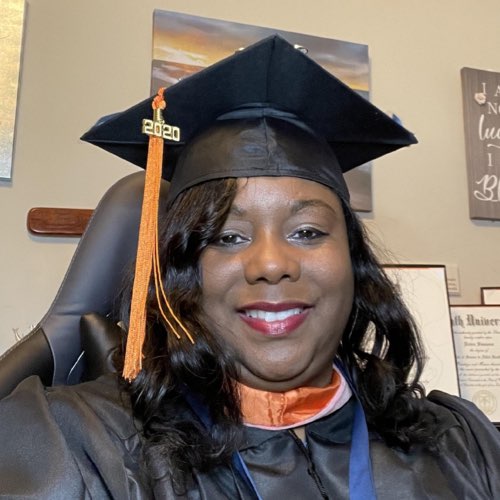 Today, Dedra Simmons is a three-time alumnus of South University's online programs, having earned her Associate of Science in Allied Health Science in 2015, her Bachelor of Science in Public Health in 2018, and most recently, her Master of Public Health in 2020. Each program she completed online. Dedra currently works as a data quality analyst for the Nebraska Health and Human Services, helping to implement plans that support the wellbeing of the public. During the height of the COVID pandemic, she also did data analysis and processing as a contact tracer and case investigator for the Georgia Department of Public Health.
At South University, Dedra found many knowledgeable and caring faculty and staff members. From her instructors to her program director to members of the career services team who helped her with her resume, there was always someone there to answer questions, recommend helpful resources, and provide academic and career guidance.
"My experience at South University has been wonderful. The coursework is very easy to understand and assistance is available such as tutoring and online library," says Dedra. "South University has prepared me for my career and taught me the skills I need to be a successful public health professional."
Dedra also formed close connections with several of her classmates, with whom she met up to study and learn together. During her master's program, she also held several positions that helped her to acquire experience in the field, including working part-time as a Research Interviewer for Emory University and Prism Health and interning for the Chatham County Health Department.
"Being at South University has helped me establish professional connections and achieve my goals as a public health professional," says Dedra. "I love public health because it allows me to help strengthen health facilities and organizations by promoting and protecting health equity for all."
To learn about how South University can help you pursue your goals, explore our programs or request information to talk with a South University representative today!
If you're a South University grad who wants to see your accomplishments featured, this is your chance! Log in to our Alumni Site and click Share Your Story in the Alumni Success section.
Financial aid is available to those who qualify.