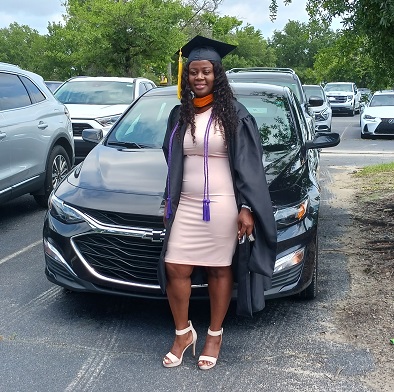 Family nurse practitioners provide primary care across the lifespan, helping patients of all ages, from child to adult. At South University, our Master of Science in Nursing (MSN) with a specialization in Family Nurse Practitioner (FNP) degree program is designed to provide a well-rounded education that opens up the doorway for graduates to become an FNP1 and to provide patients the best possible care.
For 2022 graduate Jade Sonlin, the MSN FNP program offered through South University's online programs has been an important part of her nursing journey and career development. Jade found South University when researching nursing programs online. After talking with colleagues, connecting with university staff, and learning about her financing options, Jade was drawn to the flexibility in the payment options and the flexibility online classes provided to her schedule. She decided South University's online FNP program was right for her.
As an FNP student, Jade worked to expand her skills in areas such as preventative care, assessment, diagnosis, treatment, patient education, and health promotion for individuals and families. The courses also focused on building competencies around nursing research and health policy. In addition to her online coursework, Jade completed clinical practicum experiences2 in adult and gerontology care, women's health, pediatrics, and primary care fields.
"The South University program and its experienced3 lecturers helped to prepare me for a career as an FNP," says Jade. "I chose FNP because I wanted to gain advanced knowledge and skills and this would be a good area of providing advanced service to humanity."
While the MSN program was difficult at times and life held its own challenges, Jade is thankful to her academic advisor who helped her to push through. "My advisor never failed to return calls or reply to emails, and provide the encouragement I needed to finish the task," she shares.
Likewise, her instructors also offered constant support. "South University faculty impacted me with the degree of kindness and interest in my success. No one is willing to see you fail," she says. "They will contact you and assist to ensure success."
Today, Jade is proud to hold her MSN FNP degree and encourages other students looking for a flexible online MSN program to look to South University!
Want to See Your Story Featured?
If you're a South University grad and want to share your experiences and accomplishments, log in to our Alumni Site and click Share Your Story in the Alumni Success section.
1 It is up to each student to review the national and state licensure requirements for licensure, as well as the eligibility criteria to sit for licensure exams. South University cannot guarantee each graduate will pass the required licensure examinations. Outside agencies control the requirements for taking and passing certification/licensing exams and are subject to change without notice to South University. South University does not promise or guarantee employment.
2 Fully online programs can have a ground clinical or practicum experience.
3 Credentials and experience may vary by instructor.
Testimonials have been provided by students/alumni in their own words and without coercion.