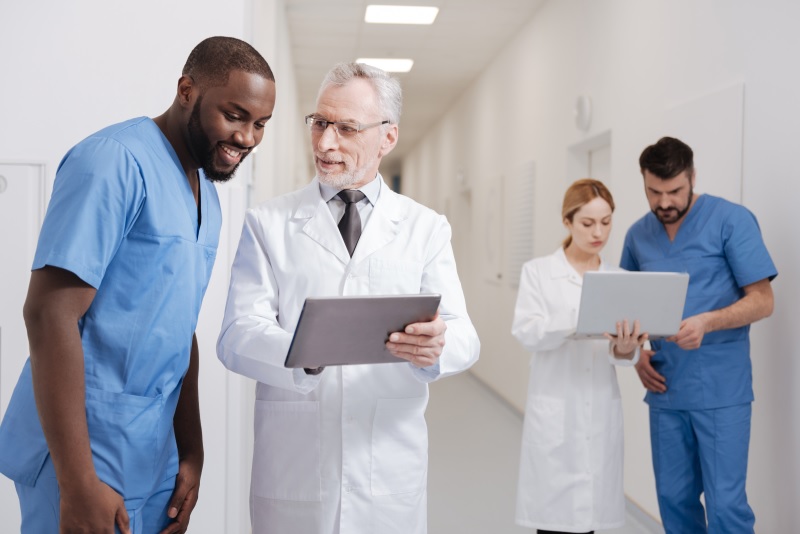 If you are passionate about helping others, want to work in healthcare, and are interested in medical procedures and patient care, a career as a medical assistant may be a good fit for you.
Medical assistants can provide valuable clinical and administrative support to healthcare professionals in numerous settings and specializations. Here are some common types of organizations and specialized roles in which medical assistants work.
Healthcare Front Office Management
Medical assistants may have administrative responsibilities such as scheduling appointments, checking in patients, and managing medical records, billing, and coding. For some medical assistants, administrative work may be the majority of their role. The specific tasks and responsibilities assigned to a medical assistant in the front office will vary based on the healthcare setting.
Primary Care or Family Practice
Medical assistants in primary care or family practice settings assist physicians in examining and treating patients. They may record patient history, take vital signs, administer medications (under supervision), and provide patient education.
Specialty Clinics
Medical assistants may work in specialized clinics such as dermatology, cardiology, orthopedics, gastroenterology, or optometry. In these settings, they help with specific procedures and treatments related to the respective medical specialty.
Urgent Care Centers
Medical assistants in urgent care centers provide immediate care for non-life-threatening injuries or illnesses. They may perform triage, administer treatments, conduct diagnostic tests, and assist with minor surgeries.
Pediatrics
Medical assistants in pediatric offices assist healthcare providers in caring for infants, children, and adolescents. They may help with immunizations, growth tracking, and communicating with parents or guardians.
Obstetrics and Gynecology (OB/GYN)
Medical assistants in OB/GYN offices assist with women's healthcare. They may be involved with prenatal care for patients, gynecological examinations, and procedures related to pregnancy and childbirth.
Geriatrics
Medical assistants in geriatric settings work with elderly patients. They help other care providers with monitoring patient health, managing chronic conditions, and supporting their unique healthcare needs.
Surgical or Operating Room Assistants
In surgical settings, medical assistants may help prepare patients for surgery, assist during surgeries, and provide post-operative care. They ensure that surgical equipment and instruments are properly sterilized and organized.
Medical Imaging Centers
Medical assistants in imaging centers assist with procedures like X-rays, MRIs, CT scans, and ultrasounds. They may help position patients, explain procedures, and ensure safety protocols are followed.
Phlebotomy and Laboratory Settings
Medical assistants skilled in phlebotomy may work in laboratories, collecting blood samples from patients for testing and analysis. They may also assist in other laboratory procedures.
Public Health Clinics
Medical assistants in public health clinics may be involved in community health programs, vaccinations, health education, and outreach efforts to promote public health and preventive care.
Research and Clinical Trials
Some medical assistants work in research settings, assisting with clinical trials, data collection, and patient monitoring within a research or pharmaceutical environment.
Get Started on a Medical Assistant Degree Program
South University's Associate of Science in Medical Assisting degree program may prepare you with the technical training, interpersonal skills, and medical knowledge needed to pursue a career in medical assisting.* To learn more about our Medical Assisting program, request information today!
*South University does not promise or guarantee employment.

It is up to each student to review the national and state licensure requirements for licensure, as well as the eligibility criteria to sit for licensure exams. South University cannot guarantee each graduate will pass the required licensure examinations. Outside agencies control the requirements for taking and passing certification/licensing exams and are subject to change without notice to South University.
Our ground campus locations in Savannah, Montgomery, and Columbia offer a programmatically accredited medical assisting program; however, our online medical assisting program is not programmatically accredited.