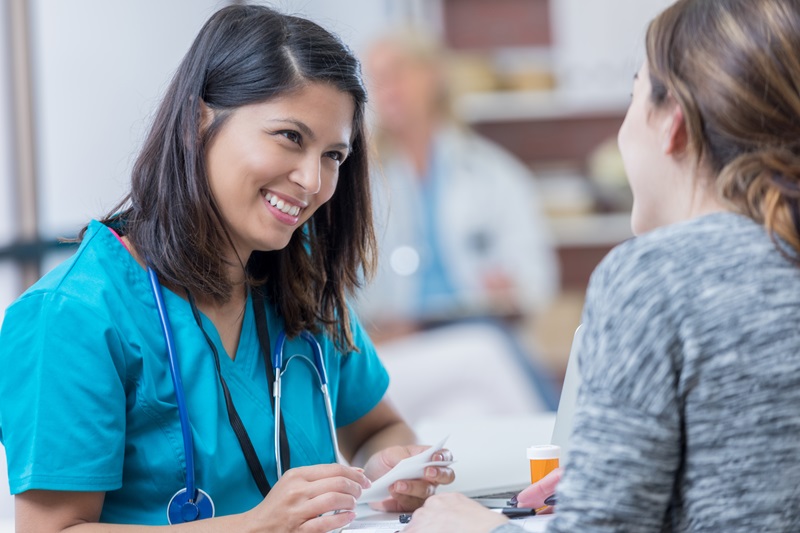 Advanced practice registered nurses (APRN) are nurses who have met specific educational and professional requirements,1 including completing a nursing program at or above the master's degree level. APRNs include Nurse Practitioners (NP), Clinical Nurse Specialists (CNS), Certified Nurse Midwives (CNM), and Certified Registered Nurse Anesthetists (CRNA).
The specific responsibilities of an APRN will vary depending on their role and specialization. In every role, APRNs complete a range of clinical, educational, and administrative duties. However, regulations and scope of practice for APRNs can vary significantly between states and regions. Advanced practice nurses may run their own private practice or work in hospitals, physician offices, outpatient care facilities, and other healthcare settings. As APRNs serve patients from all backgrounds, communication and cultural competence are in-demand skills for these roles.
10 Common Responsibilities of the Advanced Practice Registered Nurse
1. Clinical Assessment and Diagnosis
APRNs conduct comprehensive health assessments, order diagnostic tests, and make clinical diagnoses. They are often responsible for managing and treating health conditions.
2. Treatment Planning
APRNs develop and implement treatment plans that include targeted medications, therapies, and interventions. Depending on local regulations, APRNs may have prescriptive authority, allowing them to prescribe medications independently or in collaboration with a physician.
3. Direct Patient Care
Advanced practice nurses provide direct patient care, monitor patient conditions, and adjust treatment plans as necessary. Depending on their specialty, APRNs may provide primary care, acute care, mental health care, women's health care, pediatric care, geriatric care, or anesthesia services.
4. Health Promotion and Disease Prevention
APRNs focus on promoting health and preventing disease through patient education, counseling, and the development of wellness and prevention programs. Being a teacher and coach to patients is a vital part of working as an advanced practice nurse.
5. Research and Quality Improvement
Many APRNs are involved in research, evidence-based practice, and quality improvement initiatives to enhance patient care outcomes and advance the nursing profession. As part of these efforts, APRNs closely monitor the quality of care in their practice.
6. Collaboration
APRNs frequently collaborate with other healthcare professionals to provide comprehensive care to patients. APRNs may interact with physicians, pharmacists, social workers, therapists, and more. This can include communicating in person as well as using various resources and technologies to share information.
7. Leadership and Management
In some roles, advanced practice nurses take on leadership and management responsibilities. This can include overseeing clinical teams, managing healthcare programs, and making administrative decisions.
8. Education and Training
Some APRNs are involved in teaching and mentoring nursing students, medical residents, and other healthcare professionals. They may also provide continuing education to fellow nurses and healthcare staff.
9. Advocacy and Policy
APRNs may advocate for healthcare policy changes, contribute to the development of healthcare guidelines, and work to improve the scope of practice and regulations governing advanced practice nursing.
10. Patient Advocacy
APRNs often advocate for patients' rights. They assist them in managing and negotiating the healthcare delivery system. They also help coordinate care to ensure the best possible outcomes, taking into account the patient's physical, emotional, and social well-being.
Want to grow your skills in nursing?
South University offers a variety of nursing degree programs, including at the bachelor's, master's, and doctoral levels. If you're considering a future as an advanced practice nurse1, explore our master's degree programs with specialization options that include Family Nurse Practitioner and Adult Gerontology Nurse Practitioner.
No matter what nursing program you choose, South University can help you develop patient care, critical thinking, and management skills that help you grow as a nurse. Request information to speak with an Admissions Representative today.
1 It is up to each student to review the national and state licensure requirements for licensure, as well as the eligibility criteria to sit for licensure exams. South University cannot guarantee each graduate will pass the required licensure examinations. Outside agencies control the requirements for taking and passing certification/licensing exams and are subject to change without notice to South University. South University does not promise or guarantee employment.