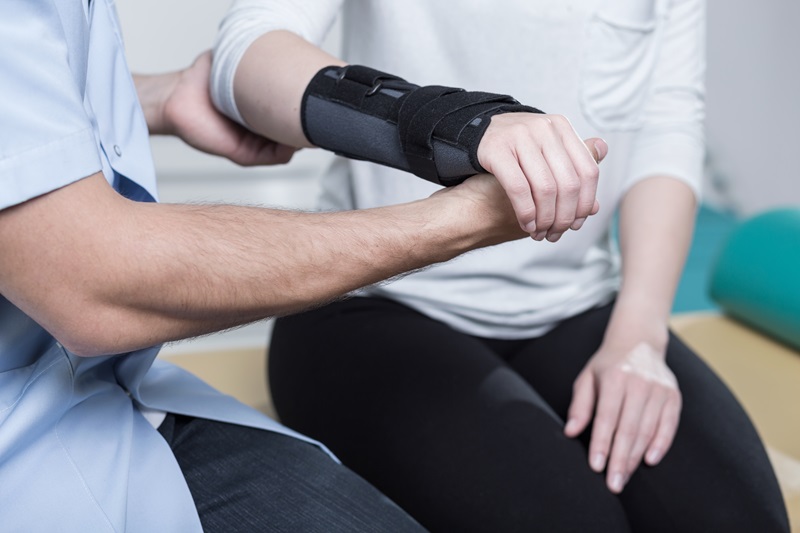 Physical therapy can allow individuals of all ages to improve mobility, manage pain, prevent or recover from injuries, and enhance overall physical function. It can also help maximize independence and improve quality of life for people with special needs, including individuals with disabilities, amputations, or spinal cord injuries. Working under the supervision of a physical therapist, physical therapist assistants support patients with their exercises, activities, and treatments. Each treatment plan will be personalized based on the patient's age, condition, and goals.
In this blog, we highlight examples of how physical therapy and physical therapist assistants (PTAs) can help patients across the lifespan.
Infants and Toddlers
Physical therapy can help infants and toddlers reach developmental milestones such as rolling over, crawling, and walking. Therapists and PTAs can work on building the young patient's muscle strength and tone to facilitate proper movement and coordination.
Children and Adolescents
Physical therapy assistants can help educate children and adolescents on injury prevention and exercises to enhance strength and flexibility. Additionally, PTAs can support therapists in treating orthopedic conditions like scoliosis, fractures, and sports-related injuries in this population. If surgery is needed, physical therapy is often vital for recovery and rehabilitation.
Adults
PTAs may work with adults experiencing a variety of conditions and needs. For example, patients may seek physical therapy to aid in recovering from a joint replacement, spinal surgery, ligament repair, or other orthopedic surgery. Those with cardiovascular or pulmonary conditions may pursue physical therapy to boost heart and lung function. For conditions like stroke, multiple sclerosis, or Parkinson's, physical therapy can promote neurological rehabilitation, enabling them to regain movement and function.
Physical therapy exercise and pain relief techniques can also be beneficial for managing chronic conditions like osteoarthritis or chronic back pain. PTAs can even help patients improve their posture and address issues related to prolonged sitting or repetitive motions.
Another application of physical therapy is helping patients during pregnancy and aiding in postpartum recovery. During pregnancy, PTAs can provide guidance on safe exercises, proper body mechanics, and exercises to make labor and delivery easier and safer. Techniques such as manual therapy, stretching, and therapeutic exercises can help manage the musculoskeletal discomfort often experienced during pregnancy. Physical therapy can also help patients recover and restore muscle strength and fitness levels after giving birth.
Elderly Adults
For elderly adults, physical therapy can have additional benefits beyond those mentioned above. Fall prevention is one significant area, as physical therapy assists in improving balance and strength to prevent accidental falls. PTAs may also work with patients on maintaining or improving mobility to enable independent living and reduce the risk of disability. Finally, techniques like manual therapy and exercises can help manage age-related joint pain or arthritis.
Study Physical Therapy Assisting at South University
If you're interested in pursuing a career as a physical therapist assistant (PTA)*, South University can provide you with the education to pursue your goals**. Our PTA programs offer a well-rounded curriculum in the fundamental concepts and theories of physical therapy modalities and rehabilitation procedures. Clinical experiences also provide the chance to gain hands-on experience in the field under the guidance of a knowledgeable mentor.
Our PTA program is an Associate of Science in Physical Therapist Assistant degree at our locations in Alabama, Florida, Georgia, South Carolina, and Texas. At our Virginia campuses, the program is an Associate of Applied Science in Physical Therapist Assistant.
Request information today to learn more about earning your PTA degree.
*Graduation from a CAPTE accredited physical therapist assistant education program or its equivalency and passage of the National Physical Therapy Exam (NPTE) is required for licensure. Graduation from our program does not guarantee licensure as a PTA, and it is the student's responsibility to be aware of the licensure requirements in each state. Complete information on practice acts and regulations can be obtained from the individual state licensing boards or through The Federation of State Boards of Physical Therapy (www.fsbpt.org).
It is up to each student to review the national and state licensure requirements for licensure, as well as the eligibility criteria to sit for licensure exams. South University cannot guarantee each graduate will pass the required licensure examinations. Outside agencies control the requirements for taking and passing certification/licensing exams and are subject to change without notice to South University.
**South University does not promise or guarantee employment.