Family Nurse Practitioner
Degree Overview
RN to Master of Science in Nursing in Family Nurse Practitioner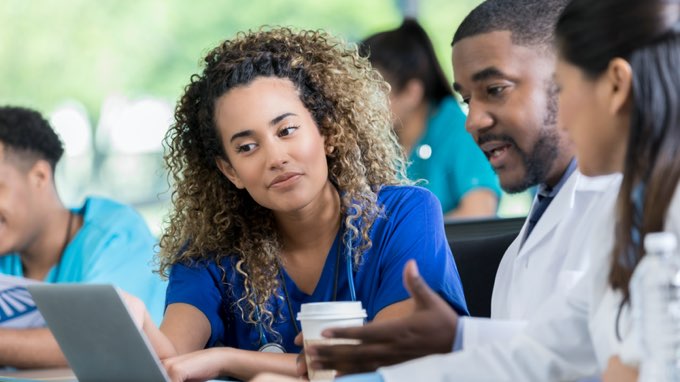 Our RN to Master of Science in Nursing (MSN) with a specialization in Family Nurse Practitioner degree program is designed to take your nursing skills further, preparing you with current healthcare and professional standards to treat patients and families throughout their lifespan. We put a strong emphasis on health promotion and the positive health behaviors for all developmental stages. This well-rounded education ensures you're armed with the skill set you need to provide the best care possible to your patients.
Admission Requirements
Procedure for Admission to the RN to Master of Science in Nursing** Degree Program
** South University, Online Program offerings may not be available to residents of all states.  Please contact an admissions representative for further information.
The criteria used in determining admission to the Master of Science in Nursing degree program include:
Completion of the application for admission.
An associate's degree in nursing from an accredited collegiate institution, or a diploma in nursing from an accredited institution, with a minimum cumulative CGPA of 3.0 or better on a 4.0 scale.
Submission of official transcripts from every college or university attended within 10 weeks after the initial start date).
A valid unencumbered single-state and/or a valid unencumbered Enhanced Nurse Licensure Compact (eNLC) multistate license as a registered nurse in all U.S. states or territories in which the student is licensed, including the state in which the student completes all assignments for the program is required. (Note that military, federal, and foreign educated nurses must meet this state requirement for nursing licensure). An unencumbered license(s) must be maintained throughout the program.
Meet the Core Performance Standards and essential function related to the profession of nursing as described in this catalog
Submission of the following:

Three references using the Nursing Graduate School Appraisal Form. At least one of your references should hold a master's in Nursing or higher degree in nursing.
An essay (goal statement) of 1-2 pages (typed, double-spaced) explaining your career goals, reasons for your choice of specialization, and why you want to pursue an advanced degree in nursing.
A resume describing relevant work, professional, and volunteer experiences.

Once all required admissions documents and information are submitted, the application will be reviewed and evaluated for admission decision.
Provisional admission status is not available for the RN to Master of Science in Nursing degree program. Students not meeting admission requirements for the RN to Master of Science in Nursing program may be considered for the RN to BSN degree program and apply to the MSN degree program when the  admission requirements for the MSN degree program are met.
Course Requirements
RN to Master of Science in Nursing
---
Area I: General Education: 76 Credits
---
A transcript evaluation is completed for each student to transfer in up to 90 general education credits. For students to receive block transfer credit for General Education courses, they must meet the standard outlined in the General Education Transfer Credit policy.
Professional Development
Basic Communications
Mathematics and Statistics
Natural Sciences
Arts and Humanities (chose two)
Social and Behavioral Sciences
General Education Elective (Choose Two)
Area II Foundation Requirements: 14 Credits
Undergraduate Nursing (45 transfer credits + 36 credits from South University)
Graduate Nursing (Students must complete core credits and one specialization)
MSN Core: 20 Credits
Specialization in Family Nurse Practitioner: 42 Credits for Specialization, 233 Total Credits for Program
---
For the most up to date information on course requirements, please visit the academic catalog.
Outcomes
Students completing the Nurse Practitioner specialization demonstrate acquisition of the following competencies and proficiencies:

1. Integrate specialty standards of advanced practice nursing to deliver culturally competent, quality healthcare services to individuals, families, populations and systems.
2. Exercise effective leadership, critical thinking and communication skills in the development and implementation of advanced nursing practice services in primary care.
3. Integrate professional nursing standards, values and accountability into role and self development as an advanced practice nurse.
4. Utilize information technology and an evidence-based research approach in the development of nursing knowledge and design of healthcare services for clients, populations and systems.
5. Ensure advanced levels of clinical judgment, systems thinking, and accountability in the implementation and evaluation of evidenced based care to diverse individuals and populations.
Request Information
Learn More About the South University Program That's Right For You.
Fill out the form and a representative will contact you today to better understand your academic goals plus answer any questions you may have.
Success! Your request was submitted. We'll be in touch soon!
In the meantime, you can view some of our
FAQs
success stories
Outstanding Education for Remarkable Careers
We're committed to helping our graduates make impact in their professional and personal lives. We applaud our nursing alumni and the difference they make. Check out what some of our nursing graduates have to say.