Degree Overview
Master of Science in Physician Assistant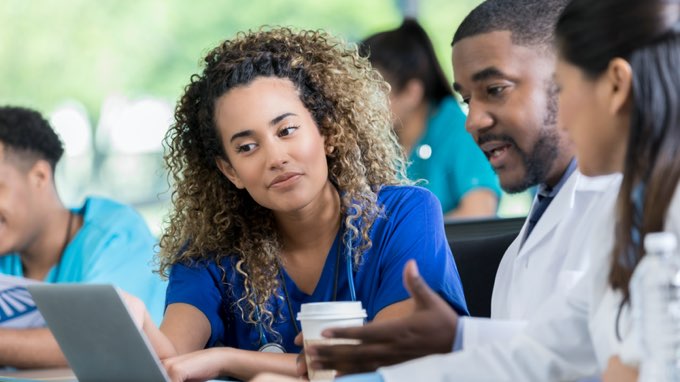 The South University Richmond Master of Science in Physician Assistant program offers fundamental medical concepts and theories, provides students with the knowledge, skills and attitudes necessary to function with physician supervision, as medical professionals who will serve as valued members of the health care team. Physician assistants perform medical functions that include, but are not limited to, evaluation, monitoring, diagnostics, therapeutics, counseling, and referral. The scope of the practice varies according to state laws, the medical setting, and the training of the physician assistant. In many states, physician assistants can prescribe and/or dispense medicine. The MS in Physician Assistant program at South University's Richmond campus is designed to provide students with effective learning opportunities that will prepare them to perform their expected competencies in an ethical, legal, safe and effective manner upon graduation.
Accreditation Review Commission on Education for Physician Assistant
The Accreditation Review Commission on Education for the Physician Assistant, Inc. (ARC-PA) has granted Accreditation-Continued status to the South University Richmond PA Program sponsored by South University Richmond. Accreditation-Continued is an accreditation status granted when a currently accredited program is in compliance with the ARC-PA Standards.

Accreditation remains in effect until the program closes or withdraws from the accreditation process or until accreditation is withdrawn for failure to comply with the Standards. The approximate date for the next validation review of the program by the ARC-PA will be 2031 March. The review date is contingent upon continued compliance with the Accreditation Standards and ARC-PA policy.

The program's accreditation history can be viewed on the ARC-PA website at http://www.arc-pa.org/accreditation-history-south-university- richmond/
Learn More
Physician Assistant at South University
South University is committed to creating career opportunities for our students, so we provide the relevant coursework for you to meet your career goals in a position as a Physician Assistant as well as the ethical and legal competencies and effective communication skills that are integral for this profession. In addition, we instill the value of continued education in our students so you can continue to create more opportunities for success in your career.
Mission & Vision
Physician Assistant Program
Missions Statement
The South University Physician Assistant (MSPA) exists to educate a diverse student population as providers of high-quality, cost-efficient health care who will make a positive impact while practicing the art and science of medicine with physician collaboration.


Vision Statement
The South University Master of Science in Physician Assistant (PA) degree program strives to provide educational experiences where faculty, staff, clinical instructors, students, and other health care providers work together in an atmosphere of mutual respect, cooperation, and commitment. The program's primary focus is on the development of physician assistants capable of expanding into clinical leadership roles by demonstrating proficiency in critical thinking and creative problem solving, utilizing evidence-based skills gained through innovative approaches.


Master of Science Physician Assistant Degree Program Technical Standards

In order to ensure that patients receive the best medical care possible, the faculty of the South University Physician Assistant program has identified certain skills and professional behaviors that are essential for successful progression of physician assistant students in the program. A student must possess skills and behaviors at a level of capability to perform a variety of duties required of a physician assistant as a health care professional.

Students with disabilities who can perform these skills and successfully execute professional behavior either unassisted, with dependable use of assistive devices, or by employing other reasonable accommodations are eligible to apply for enrollment in the program. Minimum performance standards include critical thinking, communication skills, observation skills, motor skills, and interpersonal abilities. Interested parties may contact the Physician Assistant program office for additional information about South University performance standards. These skills and behaviors include, but are not limited to;

Critical Thinking: A student must possess the intellectual, ethical, physical and emotional capabilities required to undertake the full curriculum and to achieve the levels of competence required by the faculty. The ability to solve problems, a skill that is critical to the practice of medicine, requires the intellectual abilities of measurement, calculation, reasoning, analysis and synthesis. Students must be able to perform demonstrations and experiments in the basic sciences.

Communication Skills: A student should also be able to speak, to hear, and to observe patients in order to elicit information, describe changes in mood, activity and posture, and to perceive nonverbal communications. The student must be able to communicate effectively and efficiently in oral and written forms.

Observation Skills: The student must be able to observe a patient accurately, both at a distance and in close proximity. This ability requires the functional use of vision and somatic sensation.

Motor Skills: A student should have sufficient motor function to elicit information from patients by palpation, auscultation, percussion and other diagnostic techniques. A student should be able to execute movements reasonably required to move from area to area, maneuver in small spaces, calibrate and use large and small equipment, position and move patients, and provide patients with general care and emergency treatment.

Interpersonal Abilities: A student for the Physician Assistant program must possess the emotional health required for full utilization of his or her intellectual abilities, the exercise of good judgment, the prompt completion of all responsibilities required for the diagnosis and care of patients and the development of professionalism through mature, sensitive, and effective relationships with patients, families, and colleagues.
Faculty
Physician Assistant Program at Richmond
Faculty and Staff

Physician Assistant Faculty
Shannon Schellenberg, MPA, PA-C
Program Director, Associate Professor
Shannon Schellenberg joined South University in December 2016, initially as a Principal Faculty member prior to becoming the Program Director. With a background of over 10 years of clinical experience as a practicing Physician Assistant in the fields of Primary Care, Urgent Care, and Neurologic Surgery, Ms. Schellenberg brings her clinical expertise and community affiliations to enrich the curriculum.
She graduated with a Master of Physician Assistant Studies from Eastern Virginia Medical School in 2006 and previously earned her Bachelor of Arts from the University of Virginia in Charlottesville, Virginia. She is an active member of the Virginia Academy of Physician Assistants, American Academy of Physician Assistants, and the American Association of Neurological Surgeons.
Dr. Katherine Tyson, MD, M.Ed.
Medical Director
Dr. Katherine "Katie" Tyson joined South University in 2016 as the Assistant Medical Director before transitioning to Medical Director in 2017. She holds a BSEd and M.Ed. from the University of Virginia, and received her Medical Degree from the Medical College of Virginia (MCV) where she also completed both her internship and residency in Obstetrics & Gynecology. During her tenure at MCV, she was honored with the Arnold P. Gold Foundation Humanism and Excellence in Teaching Award; elected Chief Administrative Resident of her cohort; and achieved membership in the Alpha Omega Alpha Honor Medical Society.
Since leaving private practice in 2014, Dr. Tyson continues to pursue her love of all things obstetric as a Laborist within a local hospital system. In 2017, she was appointed by former Governor Terry McAuliffe to a 3-year term on the Virginia Council on Women, where she shares her vision for women's health, education and empowerment for the betterment of the Commonwealth. Additionally, Dr. Tyson serves on the Board of Connor's Heroes Foundation, a Richmond pediatric cancer charity.
In addition to serving as Medical Director, Dr. Tyson is the Chair of the Admissions Committee and lectures within the PA Program on topics pertaining to Women's Health. She is Board Certified by the American College of Obstetrics and Gynecology and the American Board of Obesity Medicine.
Lacey Tudor, DMSc, PA-C
Director of Didactic Education, Assistant Professor
Lacey Tudor joined South University in 2017 as a Principal Faculty Member and was promoted to Director of Didactic Education in 2020. She serves as the Faculty Director for student events within the community in addition to the South University Physician Assistant Department OSCE Committee Chair. She has been a practicing physician assistant in emergency medicine for six years.
Dr. Tudor worked as a Dental Assistant for the VCU School of Dentistry Endodontics Department while obtaining a Bachelor of Science degree in Biology from Virginia Commonwealth University. She then earned a degree in Physician Assistant Studies from Hofstra University and her doctoral degree from Lynchburg University. Ms. Tudor remains clinically active in Emergency Medicine and a fellow for the American Academy of Physician Assistants. She also remains involved in the local community through the Virginia High School Gymnastics Judging Association.
Rosemary Lethbridge, MPAS, PA-C
Director of Clinical Education, Assistant Professor
Rosemary Lethbridge joined the South University team in March of 2019 as the Director of Clinical Education. Ms. Lethbridge brings 9 years of clinical experience working as a Physician Assistant prior to contributing to the education of PA students at South University. She has practiced in various areas of medicine to include Cardiology, Internal Medicine, Military Medicine, Family Medicine, and Occupational Medicine. She has a strong desire to train excellent medical providers who will provide medical care with integrity.
Prior to practicing as a Physician Assistant, she attended and graduated from Duquesne University in Pittsburgh, PA with a bachelor's degree in Health Sciences. She then completed her master's at the same institution in Physician Assistant Studies in 2010.
Koren Cooper, MHS, PA-C
Assistant Professor
Koren Cooper joined South University in 2020 as a Principal Faculty member. She received her master's in Health Science – Physician Assistant Studies from Philadelphia College of Osteopathic Medicine. Mrs. Cooper has been a licensed Physician Assistant since 2012, primarily practicing in general surgery and gastroenterology. Prior to becoming a Physician Assistant, she played four years of collegiate tennis while obtaining her Exercise Science degree from University of North Carolina at Charlotte. Mrs. Cooper is excited to bring her clinical expertise and passion for education to help prepare future Physician Assistants.
She is currently an active member with American Academy of Physician Assistants. In addition to teaching, she enjoys spending time with her husband and their new son, volunteering in the Richmond community, reading, and exercising.
Mallory Walsh, MMS, PA-C
Assistant Professor
Mallory Walsh joined the South University Master of Science in Physician Assistant Program as Principal Faculty in 2020. She has 9 years of clinical practice as a Physician Assistant, in the field of Hospital Medicine. Mallory is excited to bring her experience in acute care and internal medicine as well as her enthusiasm for learning to Physician Assistant students.
She pursued her studies in her home state of Florida and received her bachelor's degree in Health Science from the University of Florida. She then obtained her master's in Physician Assistant Studies from Nova Southeastern University in 2011. Mallory remains clinically involved as a Hospitalist and in her spare time enjoys spending time outdoors and traveling with her husband and their two dogs.
Crystal Mann, MPA, PA-C
Assistant Professor
Crystal Mann joined the South University team in 2021 as Principal Faculty. She has been a licensed Physician Assistant in practice for 17.5 years. Her areas of prior clinical practice include: Internal Medicine, Gastroenterology and Pediatrics. Crystal is excited to bring her clinical experience to the classroom to help prepare future Physician Assistants.
Ms. Mann completed all of academic studies in her home state of Virginia. She received her Master of Physician Assistant Studies from Eastern Virginia Medical School in 2003 and previously earned her bachelor's degree in Psychology from the University of Virginia. In addition to teaching, she enjoys both practicing and teaching yoga in addition to traveling and spending time with her dog Ruby and nephew Canvas.
Mina Tabibi, MPA, PA-C
Assistant Professor

Mina Tabibi joined the South University Master of Science in Physician Assistant Program as a Principal Faculty member in 2021. Prior to joining as a full-time faculty member, she served as a clinical preceptor for the program during her full-time clinical position as an Emergency Medicine Physician Assistant. Since graduating from Eastern Virginia Medical School in 2007, she has primarily practiced as a Physician Assistant in Emergency Medicine in addition to participating as a member of VCU Health System's Cardiothoracic Team from 2013-2016 as a practicing Physician Assistant.

Ms. Tabibi obtained her Bachelor of Science degree in 2003 followed by her Master of Public Health degree in 2004 both from Virginia Commonwealth University. She graduated from Eastern Virginia Medical School obtaining a Master of Physician Assistant degree in 2007.

On her time off, Ms. Tabibi enjoys exploring the outdoors with her young daughter and Siberian Husky. Some of these activities include hiking, spending time at the James River, and going to the beach. She will never turn down the opportunity for overseas adventures. With her personal, academic and clinical experience, Mina hopes to enrich the program by helping students capitalize on their strengths.
Staff
Christopher Whisenant, MS
Clinical Coordinator
Chris Whisenant joined the South University Master of Science in Physician Assistant team full time in August 2018 as the Clinical Coordinator. He earned a Bachelor of Science in Mathematics at the University of Lynchburg in 2009 and a Master of Science in Applied Mathematics from Virginia Commonwealth University in 2011. He taught math initially as an adjunct at South University – Richmond and later became a full-time instructor at the beginning of 2012. During the fall of 2017, he participated with the Physician Assistant Program as an instructor for Epidemiology and Biostatistics. Although passionate about teaching, he transitioned to the role of Clinical Coordinator during the summer of 2018. Chris enjoys this opportunity to work with graduate level students in a capacity that allows for open dialogue and a shared commitment to determining and enhancing one's academic and professional passions. In his spare time, he enjoys hiking, playing soccer and volleyball, exploring cities, cooking, and learning.
Erica Mallory, BS
Physician Assistant Student Advisor
Erica Mallory joined the South University Master of Science in Physician Assistant team full time as the Enrollment Coordinator in October 2017. She earned her Bachelor of Business Administration from South University in June 2015. Prior to joining the Physician Assistant team, she had the opportunity to work with many other departments with the South University, Richmond campus. These roles included receptionist, registrar, and administrative assistant to the Dean of Academic Affairs. Mrs. Mallory enjoys traveling and seeing other places with her husband and family. Her favorite hobbies include reading and planning for future travel excursions. She especially enjoys the relationships she has been able to develop with the Physician Assistant students during her interactions with them during the admissions process and after matriculation.
Eileen Meagher, BS
Administrative Assistant

Eileen Meagher joined the South University Master of Science in Physician Assistant team full time as the Administrative Assistant in November 2017. Her prior coursework includes a Bachelor of Science in History from Longwood College. Prior to working with the PA program, she worked as a library assistant in the Tompkins-McCaw Medical Library (MCV/VCU), the James Branch Cabell Library (VCU) and the Information Center of SunTrust Bank. She also worked for many years as the assistant librarian at Christian & Barton, LLC. She later managed the Chesterfield County Public Law Library before returning to the private sector as library assistant at Hirschler Fleischer, Attorneys at Law. 2009 saw a return to the academic environment by way of South University, Richmond campus. While at South, she has worked as a library assistant, receptionist/transcript processor and is currently working as administrative assistant to the Physician Assistant program. Mrs. Meagher very much enjoys working with the PA faculty and learns something new just about every day! Her interactions with PA students adds a youthful outlook to life, which she very much appreciates. Mrs. Meagher in a native Richmonder, and enjoys dancing, reading, travel and the outdoors. She and her husband love their recent change in status to grandparents!

Adjunct Faculty
Ryan Mazzone, MSPS, PA-C
Stanley Zelman, DDS
Robin Whelpley, PharmD, BCPS
Shawni Yeager, MPAS, PA-C
Clinical Rotations
12 months
Physician Assistant Clinical Rotations
The clinical phase is 12 months in length. Eight five-week clinical rotations are conducted at a variety of clinical sites. Students will gain clinical exposure in the following disciplines: Family Medicine, Internal Medicine, General Surgery, Pediatrics, Women's Health, Behavioral Medicine, Emergency Medicine and the Clinical Elective.

Clinical sites are recruited by the Program's Clinical Department and personnel from the Area Health Education Center (AHEC). Sites offer the students the wide variety of clinical experiences for that specific clinical rotation (course) and service delivery system. Students are not required to supply their own clinical sites or preceptors for clinical rotations. Sites for rotations will be determined by the department. Alternate rotation sites may be provided by the student to the Clinical Department personnel. Clinical Department personnel will evaluate sites suggested by students for viability as a clinical rotation site. In order to qualify for rotations outside of South University sites, or in student suggested sites, a student must demonstrate successful academic, clinical, and professional progress in the program.

The South University Physician Assistant program immunization policy is aligned with the US Centers for Disease Control and Prevention's Healthcare Personnel Vaccination Recommendations for health professionals. After acceptance into the program, but before registration can be successfully completed, all students must complete the South University Health Requirements. Be aware that additional immunizations may be required by some clinical training sites and are the students' responsibility. If students choose not to be vaccinated, they will not be allowed to rotate at clinical sites that require immunizations unless expressly permitted in writing to the program by the appropriate personnel at that site. If any of the core (required) rotations cannot be completed because the student voluntarily chose not to be vaccinated as required by the clinical rotation site, the student will not be eligible for graduation from the Physician Assistant program. In addition, if the number of clinical sites available to students who have not been vaccinated does not meet graduation requirements, those students will not be eligible for graduation from the Physician Assistant program.

Physicians, physician assistants, and other health care providers serve as preceptors for clinical students in direct patient care, providing the opportunity for the student to perfect technical and procedural skills, and to become competent in communication, physical diagnosis, succinct recording and reporting, problem assessment, and development of a logical approach to further studies and therapy.

Our students rotate in busy clinics, private physician offices, teaching hospitals, large institutions, and military hospitals and clinics. Rotations exist both in small towns and metropolitan cities. Our students are offered a wide variety of experiences and locations for their clinical rotations that are designed to round out the application of knowledge and skills to actual patient care.
Outcomes
Learning Outcomes
Physician Assistant Learning Outcomes
(Graduate Competencies)
The following are the program learning outcomes (Graduate Competencies) for the South University Physician Assistant program.
Prior to graduation from the program, students will:
• PLO-1. Integrate behavioral, social, and medical knowledge established from the evolving biomedical and clinical sciences in recognizing, evaluating, and managing patient disease states across the lifespan during acute, chronic, preventative, and emergent encounters..
• PLO-2. Demonstrate the interpersonal and communication skills required to sustain effective, multi-directional information exchange within a diverse population of patients, their caregivers, and members of the healthcare team.
• PLO-3. Demonstrate the ability to elicit an accurate patient history, perform an appropriate physical examination, and perform appropriate clinical procedures using essential clinical and technical skills to provide quality patient care.
• PLO-4. Collaborate effectively as part of an interdisciplinary healthcare team through clinical reasoning and problem-solving skills to formulate a logical differential diagnosis, select and interpret appropriate diagnostic studies, and synthesize a comprehensive, patient-centered management plan for the promotion of wellness and disease prevention.
• PLO-5. Demonstrate the ability to interpret and integrate an evidence-based approach to clinical and professional practice through clinical reasoning, problem- solving, and decision-making processes to improve patient care practices.
• PLO-6. Demonstrate professionalism through personal behaviors, sensitivity, and accountability essential to patients, society, and the profession.
Request Information
Fill out the form and a representative will contact you today to better understand your academic goals plus answer any questions you may have.
Campuses offer flexible learning formats including:
on-campus, virtual instructions and online courses.
Success! Your request was submitted. We'll be in touch soon!
In the meantime, you can view some of our FAQs
If you want to talk to an admissions representative ASAP, please contact us at 1-888-444-3404
Success Stories
Outstanding Education for Remarkable Careers
We're committed to helping our graduates make an impact in their professional and personal lives. We applaud our alumni and the difference they make. Check out what some of our healthcare graduates have to say.