Degree Overview
Master of Public Health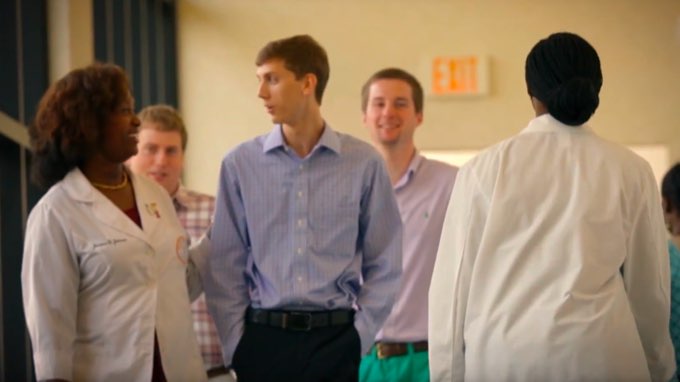 The Master of Public Health (MPH) program at South University, Savannah is a 48-credit program designed to educate students about areas of critical importance to local, national, and international public health challenges. The Master of Public Health degree program is organized around a curriculum which consists of core competencies, specialization courses, electives, and a practicum experience or applied research proposal. This program covers a broad range of topics to help develop each student's knowledge, skills, and abilities as leading public health professionals. Specializations in Public Health Practice or Healthcare Management and Policy allow for in-depth exploration within the public health arena.

Earn Your Degree
Take the Next Step in Your Public Health Career
The MPH degree program at South University is designed to push ambitious students to their potential by combining relevant coursework and applicable experience with supportive faculty and staff and professional environment.
Admission Requirements
Please see the South University
academic catalog
for program specific admissions requirements.
Career Outlook
As a graduate of the MPH degree program, you'll be ready to pursue a variety of public health positions, including:
Medical and Health Services Managers
Health Educators
Community Health Workers
Course Requirements
Master of Public Health Degree Program: 56 Credits
Core Courses: 20 Credits
PHE5001 Social and Behavioral Aspects of Public Health, 4 Credit Hours
PHE5005 Introduction to Health Services and Research, 4 Credit Hours
PHE5010 Environmental and Occupational Health, 4 Credit Hours
PHE5015 Principles of Epidemiology, 4 Credit Hours
PHE5020 Biostatistical Methods, 4 Credit Hours
Principal Courses: 32 Credits
PHE6201 Public Health Policy Research, 4 Credit Hours
PHE6202 Program Planning and Evaluation, 4 Credit Hours
PHE6203 Public Health Informatics, 4 Credit Hours
PHE6210 Health Promotion and Disease Prevention, 4 Credit Hours
PHE6220 Evidence-based Public Health Practice, 4 Credit Hours
PHE6250 Case Studies in Public Health, 4 Credit Hours
PHE6402 Public Health Law and Ethics, 4 Credit Hours
PHE6404 Grant and Contract Proposal Writing in Public Health, 4 Credit Hours
Practicum Experience: 4 Credits
PHE6980 Practicum in Public Health, 4 Credit Hours
Note(s)
South University, Online Program offerings may not be available to residents of all states.  Please contact an admissions representative for further information.
Outcomes
Upon completion of the MPH program, students should be able to:
Articulate and utilize core public health concepts in the areas of biostatistics, epidemiology, social and behavioral sciences, health services administration, and environmental health.
Identify and assess the public health conditions, including assets and deficiencies, of populations.
Demonstrate the ability to plan, implement, and evaluate programs and services designed to address public health conditions.
Understand and employ an "ecological approach" to public health, with emphasis on the linkages and relationships among the multiple determinants of health to assure conditions that protect and promote the health of populations.
Identify and analyze health disparities and design appropriate and culturally competent prevention and intervention strategies.
Apply theory and knowledge in field-based settings, as evidenced by a competency level of knowledgeable to proficient across the seven competency domains for public health professionals.
Analytical assessment.
Policy development/program planning.
Communication.
Cultural competency.
Community dimension of practice.
Basic public health sciences.
Financial planning and management.
Leadership and systems thinking.
Demonstrate skills in public health research and communication.
Apply critical thinking skills within the context of public health policy, practice, and research.
success stories
Outstanding Education for Remarkable Careers
We're committed to helping our graduates make impact in their professional and personal lives. We applaud our nursing alumni and the difference they make. Check out what some of our graduates have to say.





Request Information
Learn More About the South University Program That's Right For You.
Fill out the form and a representative will contact you today to better understand your academic goals plus answer any questions you may have.
Success! Your request was submitted. We'll be in touch soon!
In the meantime, you can view some of our
FAQs