Degree Overview
Master of Science in Information Systems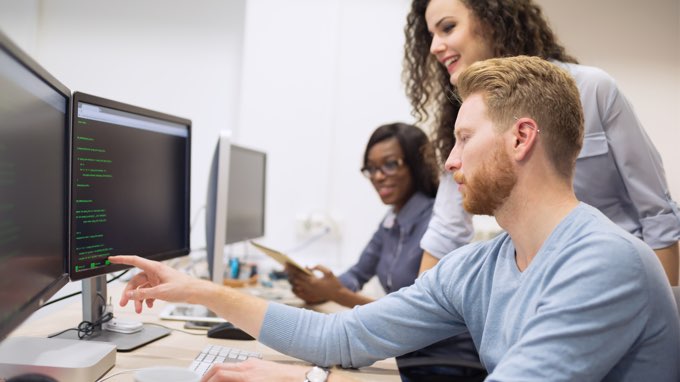 At South University Austin, the Master of Science in Information Systems program is built to be a technology-focused degree that teaches you how to manage information and technology in the modern age of information. Offered in our new Online + On Campus learning format, you will have the opportunity to learn alongside your peers while still having the capacity to meet the demands you face as a professional. The first week of the quarter is spent in the classroom, getting to know classmates and faculty, followed by an alternating schedule of one week online and one week on campus.

Whether your background is primarily in business or technology, this Information Systems program can prepare you to seek career enhancement and leadership opportunities. The curriculum covers key technology areas like information systems in converged networks, modern software development methodologies, business intelligence, governance, information security, and emerging technologies.
Admission Requirements
Please see the South University
academic catalog
for program specific admissions requirements.
Course Requirements
Master of Science in Information Systems: 48 Credits
Foundation of Business Courses (Choose 1): 4 Credits
LEA5125 Leadership Ethics, Culture, and Politics, 4 Credit Hours
MBA5001 Organizational Behavior and Communication, 4 Credit Hours
MBA5004 Managerial Economics, 4 Credit Hours
MBA5005 Law and Ethics for Managers, 4 Credit Hours
MBA5008 Quantitative Analysis and Decision Making, 4 Credit Hours
Foundation Information Systems and Technology: 8 Credits
MIS5020 Information Systems Fundamentals, 4 Credit Hours
MIS5030 Emerging Technologies, 4 Credit Hours
Core: 28 Credits
MIS6000 Principles of System Development, 4 Credit Hours
MIS6010 Project Management, 4 Credit Hours
MIS6020 Corporate Information Systems Management, 4 Credit Hours
MIS6210 Decision Support Systems, 4 Credit Hours
MIS6211 Data Management, 4 Credit Hours
MIS6230 IT Audit, Control, and Compliance, 4 Credit Hours
MIS6250 Organizational Information Security, 4 Credit Hours
Elective (Choose 1): 4 Credits
MIS6160 Information Design and Usability, 4 Credit Hours
MIS6161 Human Computer Interaction, 4 Credit Hours
MIS6212 Cognitive Computing, 4 Credit Hours
MIS6231 Risk Management, 4 Credit Hours
MIS6262 Network Operations Management, 4 Credit Hours
MIS6990 Information Systems Internship, 4 Credit Hours
Capstone: 4 Credits
MIS6995 Information Systems Capstone, 4 Credit Hours
Note(s):
South University, Online Program offerings may not be available to residents of all states.  Please contact an admissions representative for further information.
Outcomes
Upon finishing your degree, you should be able to:
Understand how information systems impact business operations and decision-making, and demonstrate an ability to design, develop, analyze, and modify information systems to meet specific business needs.
Communicate clearly, both orally and in writing, an understanding of methodologies to identify, assess, and implement information systems.
Demonstrate discipline-specific knowledge in the following areas: business intelligence, data management, information systems management, information security and risk management, and project management.
Request Information
Learn More About the South University Program That's Right For You.
Fill out the form and a representative will contact you today to better understand your academic goals plus answer any questions you may have.
Success! Your request was submitted. We'll be in touch soon!
In the meantime, you can view some of our
FAQs
Success Stories
Outstanding Education for Remarkable Careers
We're committed to helping our graduates make impact in their professional and personal lives. We applaud our business and technology alumni and the difference they make.