Deangelo Mahone has known for a long time that he wanted to work in healthcare and make a difference in his community. When he found the field of public health, it felt like the perfect fit for a program of study. "With public health, not only could I influence an individual but a whole population, so that really drew me in," he shares.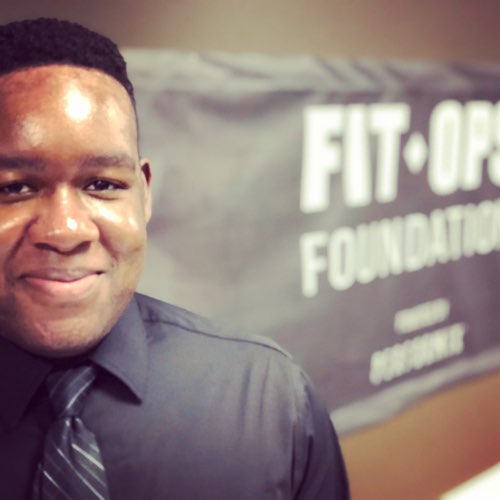 Deangelo began considering South University, Montgomery for his Bachelor of Science in Public Health after hearing good things about the school from coworkers. After learning about the program, he decided to enroll. Since starting his bachelor's degree, Deangelo has enjoyed his time at the University and is thinking about pursuing his Master of Public Health at South University as well. "All of the teachers value your education and are there to help you," he says. "If I have questions, I've never been uncomfortable asking them. They have made themselves very available for me."
One way South University instructors have helped Deangelo is by connecting him with a National Science Foundation (NSF) funded research opportunity for which they felt he was a perfect fit. Agreeing that the opportunity aligned with his goals, Deangelo is now participating in a 10-week public health-focused Research and Extension Experiential Learning for Undergraduates Experience (REEU) at Tuskegee University. Under the guidance of a faculty mentor, Deangelo is gathering information to:
Recruit and evaluate disease prevention knowledge of African Americans in the South regarding COVID-19 and other flu like illnesses
Assess African Americans' fear and mistrust of governmental information and preventive programs
Develop educational tools, materials about disease prevention, and dissemination strategies based on best practices that promote cultural sensitivity and dispel myths.
Each week, Deangelo conducts research and gives a talk to present his findings and progress. In the last week, he will give a 45-minute minute presentation and produce a final report about everything he has done. Throughout the project, Deangelo has been utilizing Geographic Information Systems (GIS) to integrate and analyze data and he will receive GIS certification by the end of the 10 weeks. "It's been a really interesting program and I'm grateful to have done it," he says. "It's going to be a long road these last weeks I have left, but I'm excited to complete it and to have had this experience."
While Deangelo has been focused solely on his research for most of the program, when he started the program in May, he had to juggle finishing his spring classes alongside his research. Still, even with the intensity of the research experience, he was able to make the South University President's List and maintain a 4.0 for the term.
For his participation in the program, Deangelo has received a weekly stipend from the NSF. Most of that stipend he plans to use to purchase school supplies for kids as local schools start to reopen. As a South University student ambassador, he's working with his program and university leadership to get more students involved in similar community projects to help others and give thanks to the health professionals who stood by everyone during the pandemic.
Looking ahead, Deangelo is confident that earning this certification and building his research skills will help when he's ready to advance into a graduate public health program and eventually pursue medical school. "With going to grad school and medical school, having this research foundation will be important," he says. "It's a very good thing for my future endeavors."
Are you interested in the Public Health field? Explore our Public Health programs or request information to speak with an Admissions Representative about your goals and interests!