Adult-Gerontology Primary Care Nurse Practitioner
Online Degree Overview
RN to Master of Science in Nursing in Adult-Gerontology Primary Care Nurse Practitioner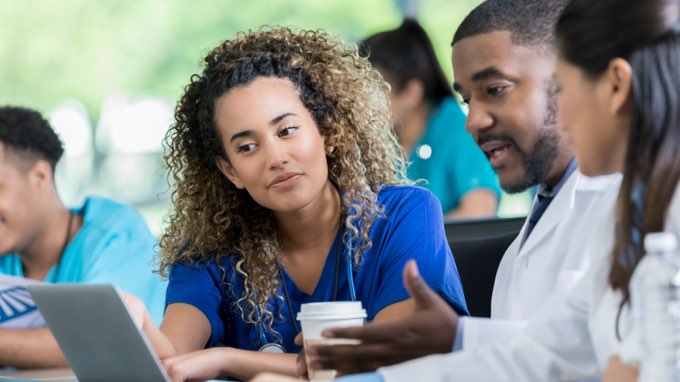 Adult-gerontology primary care nurse practitioners play a critical role in health promotion and disease prevention for adults as they age. At South University, the RN to Master of Science in Nursing (MSN) with a Specialization in Adult-Gerontology Primary Care Nurse Practitioner online program offers a path to earning an MSN that focuses on gerontology and adult care and entering into advanced nursing practice. Through interactive coursework, thoughtful discussions, and supervised practicum experiences, this RN to MSN program can prepare you to exercise advanced leadership, clinical judgment, critical thinking, and communication in diverse primary care settings. Across the curriculum, you'll develop expertise in preventing, diagnosing, and treating common health problems, focusing on at-risk and vulnerable populations.

South University's Adult-Gerontology Primary Care Nurse Practitioner program meets the core competencies for Adult Health Nurse Practitioners outlined by the National Organization for Nurse Practitioner Faculties (NONPF) and allows you to develop and practice the skills required for the national certification exams (ANCC; AANP). The program also incorporates key elements from the American Association of Colleges of Nursing Master's Essentials.

*South University does not guarantee third-party certification/licensure. Outside agencies control the requirements for taking and passing certification/licensing exams and are subject to change without notice to South University.

Earn a Degree on Your Schedule
Prepare for Your Career as a Nurse
South University offers you the flexibility and control to access your online courses anytime, day or night, so that you can pursue your RN to MSN in Adult Gerontology Family Nursre Practioner online, whenever it's most convenient for you. Our experienced, knowledgeable faculty* and staff also make sure that online never means out of touch, supporting you every step of the way as you work to achieve your goals.
Course Requirements
RN to Master of Science in Nursing
---
Area I: General Education: 76 Credits
---
A transcript evaluation is completed for each student to transfer in up to 90 general education credits. For students to receive block transfer credit for General Education courses, they must meet the standard outlined in the General Education Transfer Credit policy.
Professional Development
Basic Communications
Mathematics and Statistics
Natural Sciences
Arts and Humanities (chose two)
Social and Behavioral Sciences
General Education Elective (Choose Two)
Area II Foundation Requirements: 14 Credits
Undergraduate Nursing (45 transfer credits + 36 credits from South University)
Graduate Nursing (Students must complete core credits and one specialization)
MSN Core: 20 Credits
Specialization in Adult-Gerontology Primary Care Nurse Practitioner: 36 Credits for Specialization, 227 Total Credits for Program
---
Offered at South University, Online Programs.
For the most up to date information on course requirements, please visit the academic catalog.
Admission Requirements
Please see the South University
academic catalog
for program specific admissions requirements.
Outcomes
Upon finishing this program and entering into adult-gerontological nursing, you should be able to:
Providing health promotion, health protection, disease prevention, and treatment.
Assessing and diagnosing health status.
Creating a plan of care and implementation of treatment.
Ensuring a professional, collegial, and collaborative approach to care.
Serving as a teacher and coach to patients.
Committing to advancing the profession.
Assisting patients in managing and negotiating the healthcare delivery system.
Monitoring and ensuring high quality healthcare practice.
Demonstrating cultural competence.
Online Classroom
Haven't experienced online learning before or wondering what it's like to earn your degree online at South University? While the mode of learning is different from the traditional classroom experience with added convenience and flexibility, we hold the same high standards of academic excellence in the online classroom.
South University's online programs combine a curriculum designed for student outcomes and a classroom designed for flexibility and engagement. Our online classroom learning platform, Brightspace, provides you with a host of features to enhance your learning experience, including:
Advanced media content
Personalized navigation
Simplified online learning atmosphere
Access to digital books
Emailing and instant messaging options
We provide more than just an online classroom, bringing a range of campus experiences and services online. In addition, the online classroom is accessible on the go via mobile devices and with tools like the Pulse App. Pulse helps you stay connected and on track with your course by providing a number of features such as course calendars, readings and assignments, feedback and grades, and announcements.
Read more about online requirements here.
success stories
Outstanding Education for Remarkable Careers
We're committed to helping our graduates make impact in their professional and personal lives. We applaud our nursing alumni and the difference they make. Check out what some of our graduates have to say.





Request Information
Learn More About the South University Program That's Right For You.
Fill out the form and a representative will contact you today to better understand your academic goals plus answer any questions you may have.
Success! Your request was submitted. We'll be in touch soon!
In the meantime, you can view some of our
FAQs