Degree Overview
Master of Science in Criminal Justice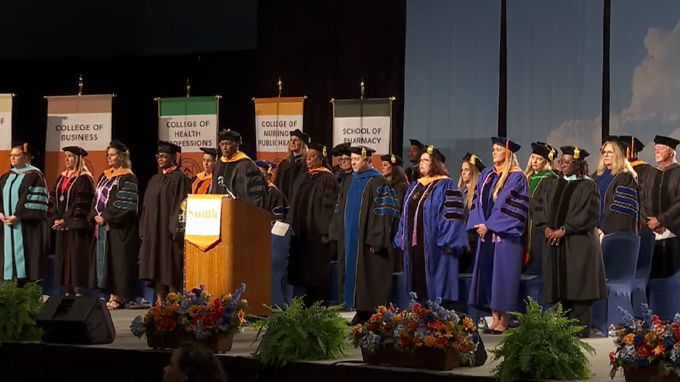 The South University Savannah Master of Science in Criminal Justice degree program is designed for individuals employed in the criminal justice system, as well as those in other careers, both public and private, who wish to acquire further education in criminal justice. Prerequisites are limited so that qualified students with bachelor's degrees in related fields such as criminology, psychology, business or public administration, anthropology, political science, sociology or related social sciences may enroll along with students who have undergraduate degrees in criminal justice. The program is primarily designed to foster a learning community of criminal justice professionals who will use their knowledge within law enforcement, correctional, political, and legal arenas.

Earn Your Degree
Take the Next Step in Your Criminal Justice Career
The MS in Criminal Justice degree program at South University is designed to push ambitious students to their potential by combining relevant coursework and applicable experience with supportive faculty and staff and professional environment.
Course Requirements
Master of Science in Criminal Justice: 48 credits
Foundation: 28 Credits
MCJ5001 Foundations in Criminal Justice, 4 Credit Hours
MCJ5003 Ethics and Moral Behavior in the Criminal Justice System, 4 Credit Hours
MCJ5100 Advanced Research Methods and Analysis I, 4 Credit Hours
MCJ6001 Criminal Justice Administration, 4 Credit Hours
MCJ6003 Criminological Theory, 4 Credit Hours
MCJ6004 Criminal Justice Planning & Innovation, 4 Credit Hours
MCJ6405 Organizational Leadership, 4 Credit Hours
Program Elective (choose four): 16 Credits
MCJ6002 Juvenile Justice Administration, 4 Credit Hours
MCJ6401 Critical/Controversial Issues: Law Enforcement, 4 Credit Hours
MCJ6404 Political Terrorism, 4 Credit Hours
MCJ6410 Legal Issues in Criminal Justice Administration, 4 Credit Hours
MCJ6505 Management of Critical Incidents, 4 Credit Hours
MCJ6601 Resource and Agency Coordination, 4 Credit Hours
MCJ6620 Special Topics in Homeland Security, 4 Credit Hours
MCJ6701 Theory and Practice of Community Corrections and Re-entry Programs, 4 Credit Hours
MCJ6705 Theory and Practice of Institutional Corrections, 4 Credit Hours
Note(s):
The student will choose four courses (16 credits) from the remaining graduate level criminal justice curriculum listed below or from other graduate offerings with the guidance and approval of the Program Director in Criminal Justice or appropriate Program Chair and with the advice of the related Program Director if courses from other programs are desired. The student should plan to take at least 50% of this part of the degree program in criminal justice courses. Students may construct an area of emphasis with the guidance of the Program Director or Chair or pursue a more general set of elective course courses. Students may emphasize a traditional area of the field such as Corrections or Homeland Security, but elective choices may also reflect the particular professional goals and aspirations of the student. Thus, courses in areas such as Public Administration, Business, or Clinical Mental Health Counseling may be included as desired and approved and if the student completes the required prerequisites for such courses. Please note that Financial Aid may not cover prerequisite courses. Please see the Coursework Taken Outside a Student's Degree Program Policy found in the Academic Affairs section of this catalog.
Capstone: 4 Credits
MCJ6985 Applied Professional Project, 4 Credit Hours
Note(s):
Acceptance into a South University Criminal Justice program or its completion does not imply or guarantee that a student will be able to obtain employment in law enforcement, corrections, probation/parole, or related fields. The student should contact the national, state, or local agency/institution in which he or she intends to gain employment for specific requirements and the application process.
South University, Online Program offerings may not be available to residents of all states.  Please contact an admissions representative for further information.
Admission Requirements
Please see the South University
academic catalog
for program specific admissions requirements.
Outcomes
Graduates will be able to:
Demonstrate mastery of skills in the areas of theoretical and applied criminal justice as well as in managerial principles and practices to effectively solve a variety of real-life problems within a complex organization.
Understand the relationship between crime theory, crime policy, and professional practice.
Demonstrate interactive skills and learn behavioral strategies for improving systemic communication within and between criminal justice agencies.
Demonstrate the ability to effectively interpret and make use of research methodology by completing a final research project prospectus on a topic related to professional practice in an actual criminal justice agency.
Career Outlook
Graduates of the MS in Criminal Justice program are prepared to seek management, administrative, research, and teaching positions. Program graduates will also be prepared for admission to doctoral programs in criminal justice, criminology and other related fields as well as for promotions within existing law enforcement, correctional, local and state government, and legal institutions.
Success STories
Outstanding Education for Remarkable Careers
We're committed to helping our graduates make an impact in their professional and personal lives. We applaud our alumni and the difference they make. Check out what some of our Criminal Justice & Legal Studies graduates have to say.





Request Information
Learn More About the South University Program That's Right For You.
Fill out the form and a representative will contact you today to better understand your academic goals plus answer any questions you may have.
Success! Your request was submitted. We'll be in touch soon!
In the meantime, you can view some of our
FAQs