Degree Overview
Master of Science in Physician Assistant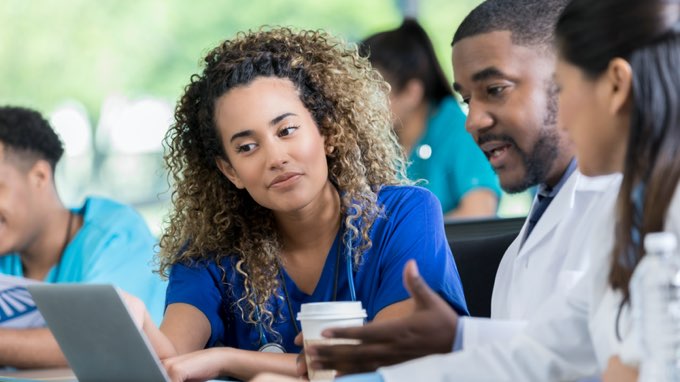 The South University West Palm Beach Master of Science in Physician Assistant (MSPA) program instills fundamental medical concepts, provides students with the knowledge, skills, and critical thinking necessary to achieve clinical competence as medical professionals who will serve as valued members of the healthcare team. Physician assistants perform medical functions that include, but are not limited to, evaluation, monitoring, diagnostics, therapeutics, counseling, and referral. The scope of practice varies according to state laws, the medical setting, and the experience of the physician assistant. The Master of Science in Physician Assistant program at South University's West Palm Beach campus is designed to provide students with effective learning opportunities that will prepare them to perform their expected competencies in an ethical, legal, safe and effective manner upon graduation.
Accreditation Review Commission on Education for Physician Assistant
The ARC-PA has granted Accreditation-Provisional status to the South University, West Palm Beach Physician Assistant Program sponsored by South University, West Palm Beach. Accreditation-Provisional is an accreditation status granted when the plans and resource allocation, if fully implemented as planned, of a proposed program that has not yet enrolled students appear to demonstrate the program's ability to meet the ARC-PA Standards or when a program holding Accreditation-Provisional status appears to demonstrate continued progress in complying with the Standards as it prepares for the graduation of the first class (cohort) of students. Accreditation-Provisional does not ensure any subsequent accreditation status. It is limited to no more than five years from matriculation of the first class. The program's accreditation history can be viewed on the ARC-PA website at http://www.arc-pa.org/accreditation-history-south-university-west-palm-beach/
Learn More
Physician Assistant at South University
South University is committed to creating career opportunities for our students, so we provide the relevant coursework for you to meet your career goals in a position as a Physician Assistant as well as the ethical and legal competencies and effective communication skills that are integral for this profession. In addition, we instill the value of continued education in our students so you can continue to create more opportunities for success in your career.
Mission & Vision
Physician Assistant Program
Missions Statement
The South University Physician Assistant (MSPA) exists to educate a diverse student population as providers of high-quality, cost-efficient health care who will make a positive impact while practicing the art and science of medicine with physician collaboration.


Vision Statement
The South University Master of Science in Physician Assistant (PA) degree program strives to provide educational experiences where faculty, staff, clinical instructors, students, and other health care providers work together in an atmosphere of mutual respect, cooperation, and commitment. The program's primary focus is on the development of physician assistants capable of expanding into clinical leadership roles by demonstrating proficiency in critical thinking and creative problem solving, utilizing evidence-based skills gained through innovative approaches.


Master of Science Physician Assistant Degree Program Technical Standards

In order to ensure that patients receive the best medical care possible, the faculty of the South University Physician Assistant program has identified certain skills and professional behaviors that are essential for successful progression of physician assistant students in the program. A student must possess skills and behaviors at a level of capability to perform a variety of duties required of a physician assistant as a health care professional.

Students with disabilities who can perform these skills and successfully execute professional behavior either unassisted, with dependable use of assistive devices, or by employing other reasonable accommodations are eligible to apply for enrollment in the program. Minimum performance standards include critical thinking, communication skills, observation skills, motor skills, and interpersonal abilities. Interested parties may contact the Physician Assistant program office for additional information about South University performance standards. These skills and behaviors include, but are not limited to;

Critical Thinking: A student must possess the intellectual, ethical, physical and emotional capabilities required to undertake the full curriculum and to achieve the levels of competence required by the faculty. The ability to solve problems, a skill that is critical to the practice of medicine, requires the intellectual abilities of measurement, calculation, reasoning, analysis and synthesis. Students must be able to perform demonstrations and experiments in the basic sciences.

Communication Skills: A student should also be able to speak, to hear, and to observe patients in order to elicit information, describe changes in mood, activity and posture, and to perceive nonverbal communications. The student must be able to communicate effectively and efficiently in oral and written forms.

Observation Skills: The student must be able to observe a patient accurately, both at a distance and in close proximity. This ability requires the functional use of vision and somatic sensation.

Motor Skills: A student should have sufficient motor function to elicit information from patients by palpation, auscultation, percussion and other diagnostic techniques. A student should be able to execute movements reasonably required to move from area to area, maneuver in small spaces, calibrate and use large and small equipment, position and move patients, and provide patients with general care and emergency treatment.

Interpersonal Abilities: A student for the Physician Assistant program must possess the emotional health required for full utilization of his or her intellectual abilities, the exercise of good judgment, the prompt completion of all responsibilities required for the diagnosis and care of patients and the development of professionalism through mature, sensitive, and effective relationships with patients, families, and colleagues.
Faculty
Physician Assistant Program at West Palm Beach
The South University, West Palm Beach Physician Assistant Program welcomes you!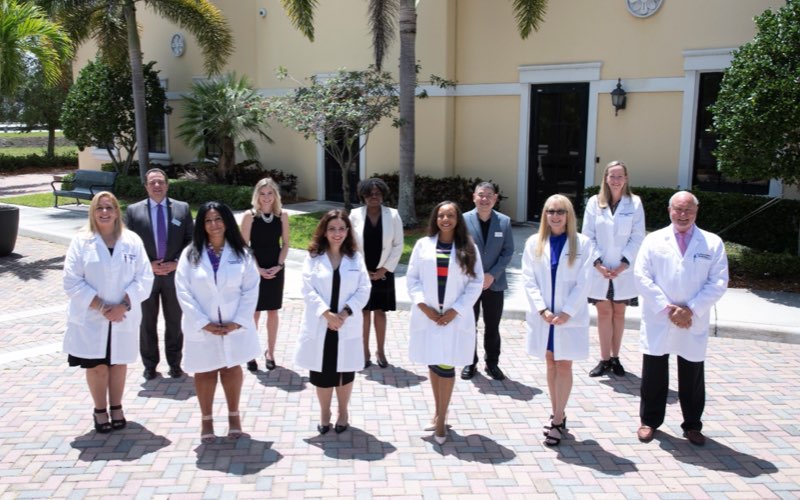 The South University, West Palm Beach Master of Science in Physician Assistant Program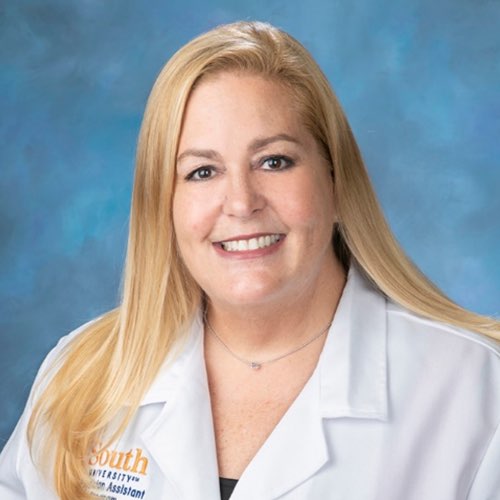 Dr. Robin Schugar, DHSc, MSPA, PA-C
Program Director
Dr. Robin Schugar joined the South University West Palm Beach Master of Science in Physician Assistant (MSPA) program in March 2020. Dr. Schugar-Read has been a practicing PA for over 20 years and brings more than 13 years of experience as a PA educator. She started her career in medicine as a surgical PA in her home state of Maryland. She worked both in the operative and post-operative settings within a variety of surgical specialties to include cardiothoracic, vascular, general surgery, gynecologic and orthopedics. In 2008 she moved to Florida and worked in the Urgent Care setting before being recruited into academia. She continues to work clinically serving our men and women in uniform providing health assessments for the military.
Dr. Schugar graduated with a Bachelor of Science in Business and Public Administration from the University of Arizona. She then pursued her Master in Physician Assistant Studies from Arcadia University (previously known as Beaver College) in Glenside, PA. In 2014, Robin earned her Doctor of Health Science from A. T. Still University.
Since moving to Florida, Dr. Schugar has been actively involved with the Florida Academy of Physician Assistants (FAPA), and was the South Regional Director covering Broward, Miami-Dade, Monroe and Palm Beach counties for three years. She served as a representative for the House of Delegates for FAPA to the American Academy of Physician Assistants (AAPA). She has been a member on the Board of Directors for the Broward County Medical Association for the last seven years. In addition to her leadership experience in PA associations, Dr. Schugar has held several academic leadership positions over the past 13 years in PA education within the local South Florida community.
Dr. Schugar is an innovator in PA education and has been on the forefront of integrating simulation across the MSPA curriculum. She has held leadership roles in both the didactic and clinical phases of the programs she has served. In the wake of a devastating hurricane, her tireless dedication to her students was exhibited as they all successfully graduated on time with many returning home to serve the healthcare needs of their community.
Dr. Schugar is very passionate about the military and animals (especially her dogs and cats). She is excited to be part of building an innovative new MSPA program in West Palm Beach!
Dr. Ilaria Gadalla, DMSc, MS, PA-C
Physician Assistant Program Department Chair
Dr. Ilaria Gadalla joined South University in January 2016. A native of New Orleans, she brings over 13 years of clinical experience as a Physician Assistant in the fields of Hospitalist Medicine, Cardiology, Nephrology, and outpatient Internal Medicine. She graduated with a Master of Science in Physician Assistant Studies from Albany Medical College in Albany, New York. She completed a Doctor of Medical Science with the University of Lynchburg in Virginia. She previously worked as a Respiratory Therapist and obtained a Bachelor of Science in Cardiopulmonary Science from the Louisiana State University Health Sciences Center in New Orleans, Louisiana.
Dr. Gadalla was nationally recognized with an Award of Excellence in the category of Clinical Leadership for Nurse Practitioners and Physician Assistants by the Society of Hospital Medicine (SHM) in 2020. The Clinical Leadership Award recognizes outstanding contributions to patient care and quality improvement, leadership of clinical care in hospital medicine, promotion of clinical knowledge, innovations in the role of a NP/PA or contributions to their hospital/hospitalist group, and excellence in creative collaboration, excellence in operations, and/or excellence in program development. In addition, she published with SHM the Hospital Medicine NP/PA Practice Integration and Optimization Statement to assist clinicians and administrators in Hospital Medicine and to promote exceptional care for hospitalized patients.
She is an active member of the Florida Academy of Physician Assistants (FAPA), the American College of Cardiology (ACC), a fellow of the American Academy of Physician Assistants (AAPA), a member of the Society of Hospital Medicine (SHM), the Physician Assistant Education Association (PAEA), the Palm Beach County Medical Society, and the South Florida Hospital and Healthcare Association. She has a variety of leadership experience including serving as the chair of the SHM NP/PA Executive Council, and as a committee member of the SHM Practice Management Committee, the PAEA Governance and Ethics Board, and the ACC Cardiovascular Team Physician Assistants Committee.
Dr. Gadalla continues to serve the local community as a Hospitalist and volunteer clinician. She enjoys cycling, swimming, and painting in her spare time.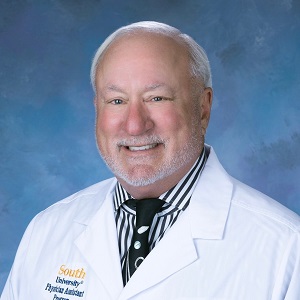 Dr. Jeffrey M. Bishop, DO
Medical Director
Dr. Jeffrey Bishop is a Board Certified Family Medicine Physician who earned his degree from the Philadelphia College of Osteopathic Medicine in 1985. Prior to medical school, he spent 10 years in the United States Navy and earned his undergraduate degree as Bachelor of Science in Medicine as a Physician Assistant from the University of Nebraska. He was one of the youngest Physician Assistants (PA) in the United States Navy and achieved the rank of Chief Warrant Officer, which guided his path towards medical school. Dr. Bishop has been a resident of South Florida for over 60 years, and has been in the Wellington/Royal Palm Beach area servicing patients and the community for the past 30 years.
He was a former owner and practicing physician at Western Communities Family Practice, the largest Primary Care Practice of its time in Palm Beach County, and retired from his very active Family Medicine Practice in 2006. He then became the Chief Medical Officer at Wellington Regional Medical Center (WRMC) and the Director of Medical Education where he served until 2013. Over the years, Dr. Bishop has held several leadership positions at WRMC and the community. He was on the Board of Governors at WRMC for 25 years, the Chairman of the Board for 5 years, Vice Chief and Chief of Staff for a period of 6 years combined, Chairman of the Utilization Management Committee, and developed the Surgery and Medicine Peer Review programs at WRMC. Dr. Bishop was awarded a Proclamation from the Mayor of Wellington in 2007 in recognition for his dedication to the local community. He developed the Medical Board of Governors in 2011 on which he continues to serve on through the Central Palm Beach County Chamber of Commerce. In his spare time, Dr. Bishop had a professional racecar team for 15 years, which raced throughout the eastern coast of the United States.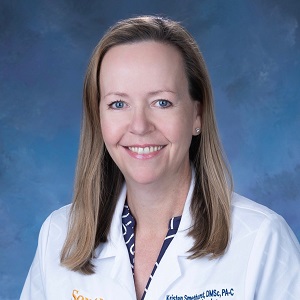 Kristen Smethurst, MPAS, PA-C
Director of Didactic Education, Assistant Professor
Ms. Kristen Smethurst joined the South University, West Palm Beach Master of Science in Physician Assistant (MSPA) Program in January 2020. She was born in Texas and raised outside of Washington, DC. She attended Rollins College in Winter Park, Florida where she received a Bachelor of Arts degree. Later, she earned a Masters of Physician Assistant Studies from the University of Florida. Ms. Smethurst has practiced clinically for over 17 years in the areas of Emergency Medicine, Internal Medicine, Women's Health, and Urgent Care. In prior academic settings, she served as the Director of Clinical Education and was active on several institutional committees.
In 2014, Ms. Smethurst moved with her family to Australia for 3 years. While there, she served as the Vice - President of Membership for the American Women's Association, volunteered with at risk youth at the St. Kilda Gatehouse, and was the Director of Operations for the annual school fair. After 3 years overseas, she returned to Florida and continues to practice in the Urgent Care setting. Ms. Smethurst has experience teaching: women's health, behavioral health, clinical procedures, epidemiology and biostatistics, clinical laboratory medicine, amongst others. She currently serves on the board for the Bak Middle School of the Arts in West Palm Beach, Florida. In her spare time, she is an avid traveler having been to 5 of the 7 continents. She is proud and excited to be part of the founding faculty for the South University, West Palm Beach Master of Science in Physician Assistant Program!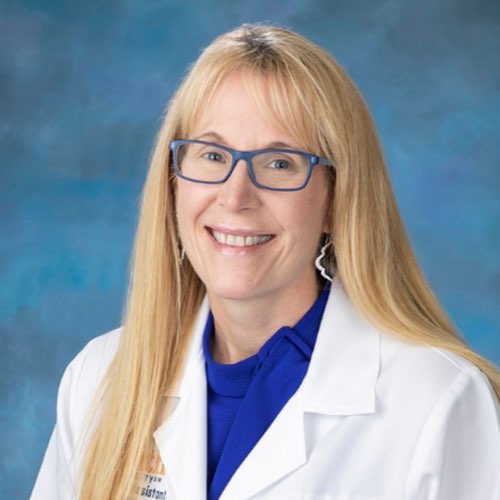 Jenifer Stover, MS, PA-C
Director of Clinical Education, Assistant Professor
Ms. Stover joined the South University West Palm Beach Master of Science in Physician Assistant (MSPA) Program in January of 2020. She is a 2003 graduate of the Master of Physician Assistant Studies program at the Massachusetts College of Pharmacy and Health Sciences. For the last 12 years, she has been practicing exclusively in the area of Emergency and Urgent Care medicine. She brings extensive clinical expertise in to the classroom and a wealth of procedural and tactical skills. Prior to her career in Emergency Medicine, Ms. Stover also practiced in the fields of Addiction Medicine, Cosmetic Dermatology, Radiation Oncology, and Hospital Medicine.
Throughout her career, she has passionately served as a preceptor to innumerable health science students and she is excited to combine her passion for medicine and teaching in her new role at South University. To maintain her clinical acumen, she continues to practice Emergency Medicine in addition to her academic duties. Ms. Stover is an accomplished artist in the mediums of photography and painting. Her best-known work features Florida wildlife and landscapes. She is an avid runner, cycler, animal lover, and discovering the sport of kayaking.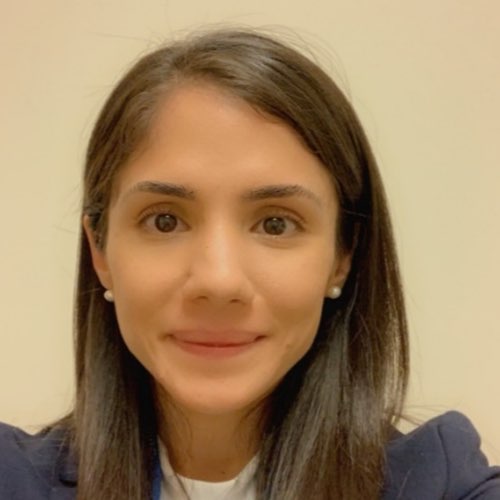 Stacy Lee, MBA
Clinical Coordinator
Ms. Stacy Lee joined the South University, West Palm Beach Physician (PA) Program in November of 2020. Stacy has been working in the healthcare field for over 10 years and in academia for the last 5. She received her Bachelor of Science Degree from Florida International University followed by her specialized Healthcare-MBA from FIU in 2017. She is Lean Six Sigma- Green Belt certified and holds a project management professional certification.
Stacy enjoys working as a liaison between South University, the community, and our clinical sites to ensure the West Palm Beach Master of Science in Physician Assistant (MSPA) program continues to grow and thrive. In her spare time, Stacy enjoys rock climbing, hiking, volunteering, biking, kayaking, dancing, cooking, and gardening.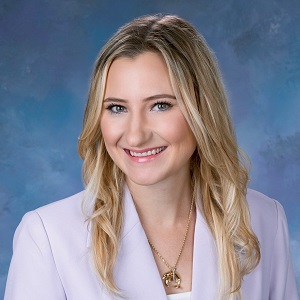 Mallorie Williams, MBA
Enrollment Manager
Mallorie Williams is a Florida native with over seven years of experience working in higher education. She graduated cum laude with her bachelor's from Florida Gulf Coast University in Fort Myers and later went on to complete an MBA with Strayer University. With a passion for leadership and development, she earned a Graduate Leadership Certificate from the Jack Welch Management Institute. In her spare time, she enjoys playing tennis, scuba diving, and volunteering within the community. Mallorie has a passion for helping students achieve their goals, and relishes watching them succeed from the day they step on campus to the day they proudly earn their degree.
Shelove Jeobam, B.S.
Administrative Assistant
Shelove Jeoboam grew up in South Florida but attended college in Tallahassee at Florida State University, where she earned her Bachelor of Science in Hospitality Management and a minor in Business Administration. She spent the majority of her career in hospitality with profound communication proficiencies, a pleasant disposition and excellent interpersonal skills, which enable her to keep departments running smoothly. She prides herself in taking on new challenges and exceeding expectations. Shelove applies her broad experience in working with people from diverse backgrounds in an ever-changing environment to her role as the administrative assistant for the Master of Science in Physician Assistant Program at South University. She strives to meet students' needs and help them continue to learn and grow as successful individuals.
Clinical Rotations
12 months
Physician Assistant Clinical Rotations
The clinical phase is 12 months in length. Eight five-week clinical rotations are conducted at a variety of clinical sites. Students will gain clinical exposure in the following disciplines: Primary Care, Internal Medicine, General Surgery, Pediatrics, Women's Health, Behavioral Medicine, Emergency Medicine and the Clinical Elective.

Clinical sites are recruited by the Program's Clinical Department and personnel from the Area Health Education Center (AHEC). Sites offer the students the wide variety of clinical experiences for that specific clinical rotation (course) and service delivery system. Students are not required to supply their own clinical sites or preceptors for clinical rotations. Sites for rotations will be determined by the department. Alternate rotation sites may be provided by the student to the Clinical Department personnel. Clinical Department personnel will evaluate sites suggested by students for viability as a clinical rotation site. In order to qualify for rotations outside of South University sites, or in student suggested sites, a student must demonstrate successful academic, clinical, and professional progress in the program.

The South University Physician Assistant program immunization policy is aligned with the US Centers for Disease Control and Prevention's Healthcare Personnel Vaccination Recommendations for health professionals. After acceptance into the program, but before registration can be successfully completed, all students must complete the South University Health Requirements. Be aware that additional immunizations may be required by some clinical training sites and are the students' responsibility. If students choose not to be vaccinated, they will not be allowed to rotate at clinical sites that require immunizations unless expressly permitted in writing to the program by the appropriate personnel at that site. If any of the core (required) rotations cannot be completed because the student voluntarily chose not to be vaccinated as required by the clinical rotation site, the student will not be eligible for graduation from the Physician Assistant program. In addition, if the number of clinical sites available to students who have not been vaccinated does not meet graduation requirements, those students will not be eligible for graduation from the Physician Assistant program.

Physicians, physician assistants, and other health care providers serve as preceptors for clinical students in direct patient care, providing the opportunity for the student to perfect technical and procedural skills, and to become competent in communication, physical diagnosis, succinct recording and reporting, problem assessment, and development of a logical approach to further studies and therapy.

Our students rotate in busy clinics, private physician offices, teaching hospitals, large institutions, and military hospitals and clinics. Rotations exist both in small towns and metropolitan cities. Our students are offered a wide variety of experiences and locations for their clinical rotations that are designed to round out the application of knowledge and skills to actual patient care.
Outcomes
Learning Outcomes
Physician Assistant Learning Outcomes
(Graduate Competencies)
The following are the program learning outcomes (Graduate Competencies) for the South University Physician Assistant program.
Prior to graduation from the program, students will:
• PLO-1. Integrate behavioral, social, and medical knowledge established from the evolving biomedical and clinical sciences in recognizing, evaluating, and managing patient disease states across the lifespan during acute, chronic, preventative, and emergent encounters..
• PLO-2. Demonstrate the interpersonal and communication skills required to sustain effective, multi-directional information exchange within a diverse population of patients, their caregivers, and members of the healthcare team.
• PLO-3. Demonstrate the ability to elicit an accurate patient history, perform an appropriate physical examination, and perform appropriate clinical procedures using essential clinical and technical skills to provide quality patient care.
• PLO-4. Collaborate effectively as part of an interdisciplinary healthcare team through clinical reasoning and problem-solving skills to formulate a logical differential diagnosis, select and interpret appropriate diagnostic studies, and synthesize a comprehensive, patient-centered management plan for the promotion of wellness and disease prevention.
• PLO-5. Demonstrate the ability to interpret and integrate an evidence-based approach to clinical and professional practice through clinical reasoning, problem- solving, and decision-making processes to improve patient care practices.
• PLO-6. Demonstrate professionalism through personal behaviors, sensitivity, and accountability essential to patients, society, and the profession.
Request Information
Fill out the form and a representative will contact you today to better understand your academic goals plus answer any questions you may have.
Campuses offer flexible learning formats including:
on-campus, virtual instructions and online courses.
Success! Your request was submitted. We'll be in touch soon!
In the meantime, you can view some of our
FAQs
Success Stories
Outstanding Education for Remarkable Careers
We're committed to helping our graduates make an impact in their professional and personal lives. We applaud our alumni and the difference they make. Check out what some of our healthcare graduates have to say.