"My prayer, purpose and plan center around faith. I am utterly committed to promoting health and healing through open dialogue, laughter, education and art, especially for the elderly and their caregivers," says South University Doctor of Ministry graduate Dr. Lachaka Andrea Askew.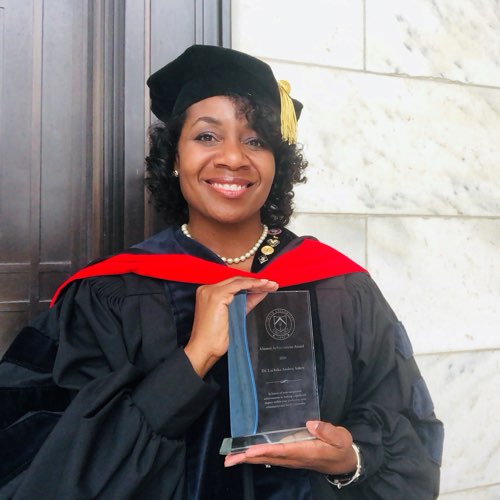 Askew combines this passion for health and ministry in the Cleveland Clinic Spiritual Care department, where she provides spiritual and ministerial guidance, comfort and services for patients, families and staff. "My current career heavily uses my DMin degree," she says. "It helped open doors to serving in the Cleveland Clinic and on the American Baptist Women's Ministries (ABWM) National Executive Committee."
As the ABWM Midwestern Section Coordinator, Askew leads the organization's officers in 14 states, conducts ministry services, and offers support and resources to other women's ministries. In addition, Askew provides spiritual services as the ABWM Board Chaplain.
Heavily involved in her community, Askew is also CEO and Founder of 20 Second Intercessor, a 501c3 Charitable Organization and global ministry. She has held memberships with the Cleveland Council on World Affairs, Cleveland Council on Foreign Relations, and Women's Foreign Policy Group, as well as affiliation with the International Community Council - Worldwide Intercultural Network. The four books she has written have been sold globally, including a short-story collection and an intercessory prayer series. She was a 2019 Who's Who in Black Cleveland Honoree and a 2020 South University Alumni Achievement Award winner.
Askew, who also has degrees in psychology and health science, says education has played a major part in her achievements. "No words can express the changes in my life since my educational journey began. Education provided the oars, so I can row in the right direction, instead of remaining adrift."
At South University, Askew participated in many organizations, growing her empathy, teamwork, problem-solving and relationship-building skills while forming important connections. "The friendships and affiliations developed through the faculty are absolutely priceless!" says Askew. "During my DMin studies, I became involved with the Health + Faith Collaboration Initiative with Cleveland Clinic, which led to my Pastoral Care work there two years later. The faculty graciously continued to help me after graduation, offering wisdom and recommendations to propel me towards my next steps. I cannot thank them enough!"
Today, Askew is a Medical Humanities doctoral candidate at Drew University, working to combine the themes of mind, body and spirit into an innovative intervention for Alzheimer's Disease. To fellow students, she advises, "Become relentless. Let nothing, absolutely nothing, stop you from fulfilling your purpose, following your passion and sharing your light."