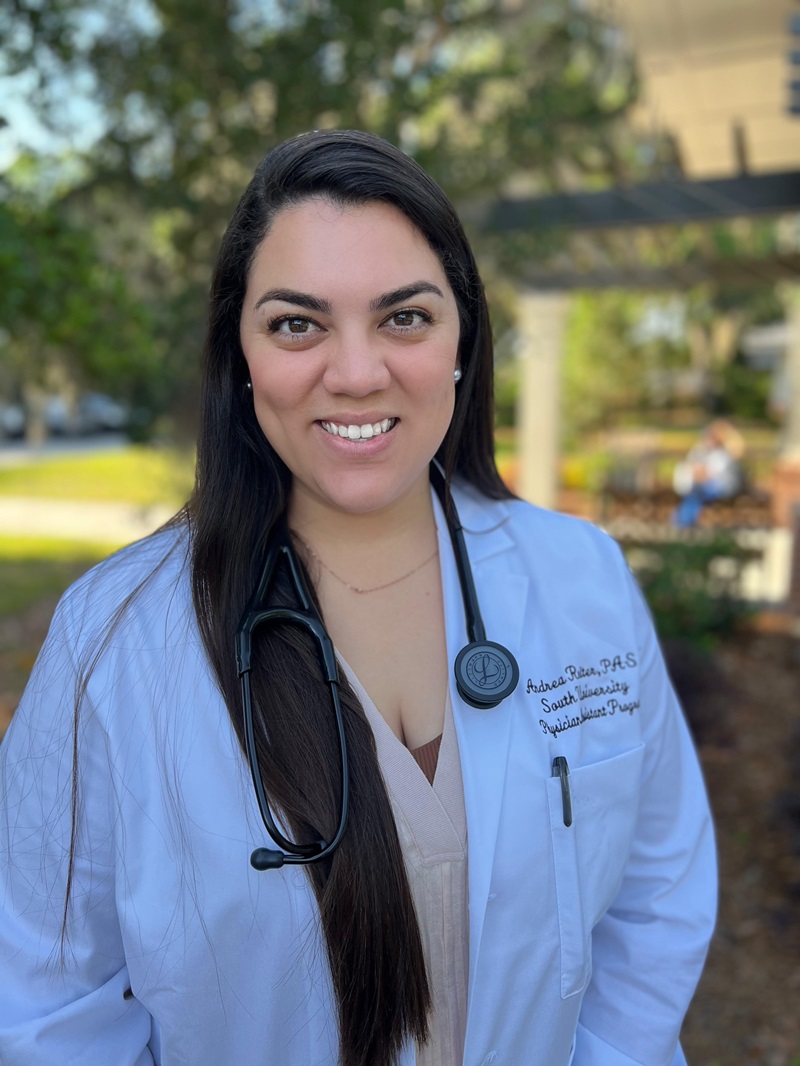 A medical emergency can happen anytime—even eight miles high in the sky, when we're least expecting it. No matter where an incident happens, the best-case scenario is that there's someone nearby who can help.
With 30 minutes left in her flight home and her daughter asleep on her lap, South University student Andrea Reiter heard the intercom come on. The flight attendants were seeking a passenger with medical training. Andrea hesitated briefly. She had previously worked in clinical research and medical assisting in organ recovery, dermatology, obstetrics, and surgery. She was also in her first year of the Master of Science in Physician Assistant (PA) program at South University, Savannah.
"I felt prepared for a lot of possible situations. I just wanted to give it a second and see if there was someone else with more experience than me," Andrea shares. "There wasn't, so it became my turn to step up."
After speaking with the flight attendant, Andrea began to assess the patient and determine how she could assist. "I entered the situation asking myself, what tools do I have or know that can help mitigate any unforeseen circumstances and get to the root of what could be going on?" she explains. "My goal was to sustain the patient in the air and prepare them to have the most success possible once they are transferred to a hospital."
Working in a confined setting with limited medical supplies, Andrea applied her professional and academic training to provide care for the individual in need. "The whole time, I was trying to calm my mind and follow steps as if we were in a normal classroom setting, but realizing that it's for a person this time," she says.
While she had no specific training for in-flight medicine, Andrea's quick thinking and medical skills ultimately helped save the patient's life. The experience is one Andrea will never forget and one that has reassured her that she is on the right path.
"Knowing that I had a substantial impact was a good feeling," she says. "It also was clear that the training I'm getting in my program has prepared me for situations that I wouldn't have thought I was capable of handling."
For Andrea, working in healthcare has long felt like a calling. Initially, as an undergraduate student at the University of Florida, she discovered a passion for research. After getting a bachelor's degree in biology, she earned a master's in exercise physiology and started a career in research. She enjoyed the work, but something was missing. When she began interacting with patients face-to-face during a clinical trial, it clicked. "I realized I needed more patient contact," she says. "I needed to go back to school, to PA school."
Having already earned two degrees, Andrea knew what was most important to her in a school. She wanted a PA program where she could have strong relationships with her professors. "When I went to look at South, I knew it was the school for me," she says. "The way the staff and the faculty are, it really does feel like a family. They're always open to listening to us, advising us, and essentially going above and beyond for us. I saw that even in the tour I did. In the stressful environment that is PA school, nothing is better than to know that you have faculty who are in your corner."
As Andrea looks to the future, she jokes that perhaps the emergency department is not her preferred place of employment. While she's drawn to the field of pediatric dermatology, what Andrea wants most is to be wherever she'll have the biggest impact. "What always attracted me to the PA profession is the ability to adapt within the medical field," she says. "My priority is being the most that I can be for our community. I want to insert myself where PAs are greatest needed. Whatever field that is at that time, that's where I want to go."
South University does not promise or guarantee employment.
Testimonials have been provided by students/alumni in their own words and without coercion. This article is based on an interview with student Andrea Reiter in October 2023.