Online Degree Overview
Associate of Science in Allied Health Science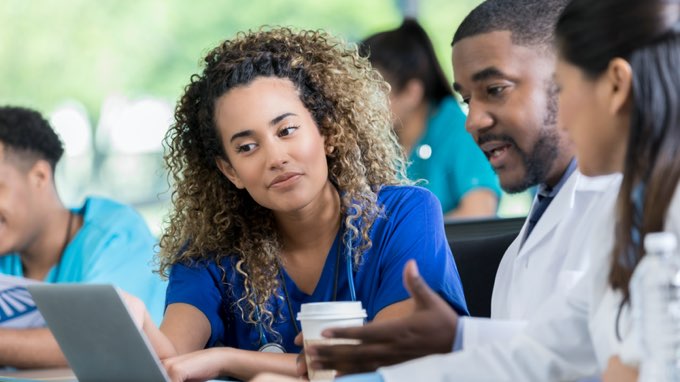 If you're interested in a career in healthcare, this associate's degree program can give you a solid foundation for achieving your professional goals. Our Associate of Science in Allied Health Sciences degree can be a springboard for a variety of higher degrees and health-focused professions where you can help members of your community get and stay healthy.
Every future healthcare professional needs a strong base of knowledge in the life and health sciences—no matter which allied health career path you plan to pursue. Our online allied health sciences associate's degree program can provide you with exactly that: a background in general studies with an emphasis on life sciences and health.


Earn a Degree on Your Schedule
Prepare to Work in the Healthcare Field
South University offers you the flexibility and control to access your online courses anytime, day or night, so that you can pursue your AS in Allied Health Science degree online, whenever it's most convenient for you. Our experienced, knowledgeable faculty* and staff also make sure that online never means out of touch, supporting you every step of the way as you work to achieve your goals.
Admissions Requirements
Please see the South University
academic catalog
for program specific admissions requirements.
Course Requirements
Associate of Science in Allied Health Science: 90 Credits
Area I General Education Requirements: 40 Credits
Professional Development
ITS1000 Computer and Internet Literacy, 4 Credit Hours
UVC1000 Strategies for Success, 4 Credit Hours
Basic Communications
ENG1100 Composition I, 4 Credit Hours
ENG1200 Composition II, 4 Credit Hours
ENG1300 Composition III, 4 Credit Hours
SPC1026 Public Speaking, 4 Credit Hours
Mathematics and Statistics
MAT1005 College Algebra II, 4 Credit Hours
(MAT 1001 is the pre-req.)
Natural Sciences
CHM1010 General Chemistry, 4 Credit Hours
Arts and Humanities (choose one)
ENG2002 World Literature I: From the Ancient World to the Middle Ages, 4 Credit Hours
ENG2003 World Literature II: From Enlightenment to Modernity, 4 Credit Hours
ENG2011 Introduction to American Literature: 1865 to present, 4 Credit Hours
HIS1101 U.S. History I: Colonial to 1865, 4 Credit Hours
HIS1102 U.S. History II: 1865 to Present, 4 Credit Hours
HUM1001 History of Art through the Middle Ages, 4 Credit Hours
HUM1002 History of Art from the Middle Ages to Modern Times, 4 Credit Hours
HUM2101 World Civilization I: Prehistory to 1500 C.E., 4 Credit Hours
HUM2102 World Civilization II: 1500 to Present, 4 Credit Hours
REL1001 World Religions, 4 Credit Hours
Social and Behavioral Sciences (choose one)
ECO2071 Principles of Microeconomics, 4 Credit Hours
ECO2072 Principles of Macroeconomics, 4 Credit Hours
POL2076 American Government, 4 Credit Hours
SOC1001 Introduction to Sociology, 4 Credit Hours
SOC2010 Social Problems, 4 Credit Hours
Area II Foundation Requirements: 20 Credits
AHS1001 Medical Terminology, 4 Credit Hours
MAT2058 Statistics, 4 Credit Hours
Choose one additional Mathematics (MAT) course (4 credits) other than MAT1005 College Algebra II or MAT2058 Statistics.
PHI2301 Introduction to Philosophy, 4 Credit Hours
PSY1001 General Psychology, 4 Credit Hours
Area III Major Requirements: 30 Credits
BIO1011 Anatomy and Physiology I, 4 Credit Hours
(must be taken concurrently with BIO1012 Anatomy and Physiology I Lab)
BIO1012 Anatomy and Physiology I Lab, 2 Credit Hours
BIO1013 Anatomy and Physiology II, 4 Credit Hours
(must be taken concurrently with BIO1014 Anatomy and Physiology II Lab)
BIO1014 Anatomy and Physiology II Lab, 2 Credit Hours
BIO2015 Human Pathophysiology, 4 Credit Hours
BIO2070 Microbiology, 4 Credit Hours
(must be taken concurrently with BIO2071 Microbiology Lab or BIO2073 Microbiology Laboratory)
BIO2071 Microbiology Lab, 2 Credit Hours
(required for BSN; RN to BSN students ONLY can take either)
BIO2073 Microbiology Laboratory, 2 Credit Hours
NTR2050 Nutrition, 4 Credit Hours
PSY2022 Human Growth and Development, 4 Credit Hours
Note(s):
South University, Online Program Offerings may not be available to residents of all states.  Please contact an admissions representative for further information.
Outcomes
Graduates should be able to:
Utilize the principles and theories of the natural, social, behavioral, and health sciences to serve as competent and considerate healthcare professionals.
Demonstrate effective and culturally sensitive written, oral and interpersonal communication skills with individuals, groups and peers in a variety of healthcare settings.
Apply exemplary ethical and professional behaviors in various healthcare positions and organizations
Apply creative and critical thinking skills to identify, explore, and develop alternative solutions for a range of healthcare delivery system issues and challenges.
Effectively search, analyze and report on healthcare related data through the application of information technology and health management information systems.
Career Outlook
As an allied health professional, you may take on clinical or administrative workplace duties while working in a hospital, clinic, physician's office, or other health care setting. After graduating, you may consider entering a nursing, healthcare management, physical therapist assisting, or medical assisting degree program.
Online Classroom
Haven't experienced online learning before or wondering what it's like to earn your degree online at South University? While the mode of learning is different from the traditional classroom experience with added convenience and flexibility, we hold the same high standards of academic excellence in the online classroom.
South University's online programs combine a curriculum designed for student outcomes and a classroom designed for flexibility and engagement. Our online classroom learning platform, Brightspace, provides you with a host of features to enhance your learning experience, including:
Advanced media content
Personalized navigation
Simplified online learning atmosphere
Access to digital books
Emailing and instant messaging options
We provide more than just an online classroom, bringing a range of campus experiences and services online. In addition, the online classroom is accessible on the go via mobile devices and with tools like the Pulse App. Pulse helps you stay connected and on track with your course by providing a number of features such as course calendars, readings and assignments, feedback and grades, and announcements.
Read more about online requirements here.
Request Information
Learn More About the South University Program That's Right For You.
Fill out the form and a representative will contact you today to better understand your academic goals plus answer any questions you may have.
Success! Your request was submitted. We'll be in touch soon!
In the meantime, you can view some of our
FAQs
Outstanding Education for Remarkable Careers
Success Stories
We're committed to helping our graduates make an impact in their professional and personal lives. We applaud our alumni and the difference they make. Check out what some of our healthcare graduates have to say.