Online Family Nurse Practitioner
Degree Overview
RN to Master of Science in Nursing in Family Nurse Practitioner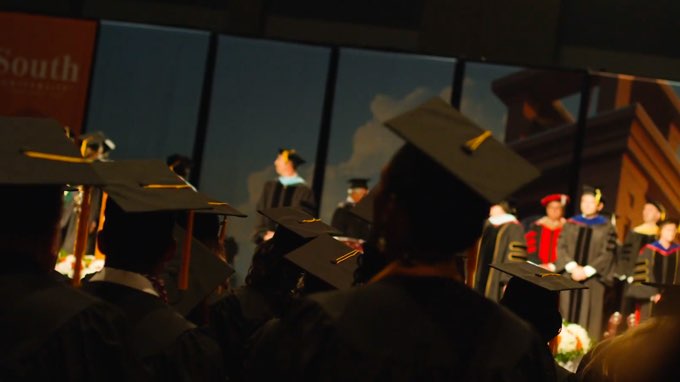 At South University, the RN to Master of Science in Nursing (MSN) with a Specialization in Family Nurse Practitioner online program can offer you a path to earning an MSN and prepare you to deliver community-based care for patients across their lifespan. In our RN to MSN with a Specialization in Family Nurse Practitioner program, you'll have the opportunity to learn best practices for providing preventive care, promoting positive health behaviors, and diagnosing and managing common health problems at all developmental stages. This program is also built to strengthen your clinical judgment, critical thinking, communication, and leadership abilities. Occasionally, students in our adult nurse practitioner and family nurse practitioner programs will share courses, exposing you to a greater variety of expert specialty faculty and encouraging cross-specialty collaborative relationships.
South University's RN to MSN with a Specialization in Family Nurse Practitioner program meet the Core Competencies for Family Nurse Practitioners outlined by the National Organization for Nurse Practitioner Faculties (NONPF) and include key attributes from the American Association of Colleges of Nursing (AACN) Master's Essentials. After successfully completing the program, you may be eligible to sit for the certification* examinations available through national certifying bodies (ANCC; AANP).
*South University does not guarantee third-party certification/licensure. Outside agencies control the requirements for taking and passing certification/licensing exams and are subject to change without notice to South University.

Commission on Collegiate Nursing Education
The Bachelor of Science in Nursing, the Master of Science in Nursing, Doctor of Nursing Practice, and Post-Graduate APRN Certificate Programs are accredited by the Commission on Collegiate Nursing Education (http://www.ccneaccreditation.org).
2020 Exam Year
88%
South University's 2020 pass rate on the American Academy of Nurse Practitioners Certification Board.
Source Link
Clinical Hours
650 hrs
Required clinical hours to complete this degree program.
Per credit hour
$600
for the MSN degree program.
Admission Requirements
Procedure for Admission to the RN to Master of Science in Nursing** Degree Program
** South University, Online Program offerings may not be available to residents of all states.  Please contact an admissions representative for further information.
The criteria to determine admission to the Master of Science in Nursing degree program include:
Completion of the application for admission.
An associate's degree in nursing from an accredited collegiate institution, or a diploma in nursing from an accredited institution.
A cumulative CGPA of 2.5 or better on a 4.0 scale.
Submission of official transcripts from every college or university attended within 10 weeks after the initial start date).
A valid and unencumbered license as a registered nurse in all US states or territory in which the student is licensed, including the state in which the student completes all assignments for the program. (Note that military, federal, and foreign educated nurses must meet this state requirement for nursing licensure).
Note: In order to progress into Graduate level nursing courses, a student must have a 3.0 cumulative GPA.  Students with a cumulative GPA of less than 3.0 may transition to the RN to BSN program to complete their BSN and then apply for the MSN program.
Course Requirements
RN to Master of Science in Nursing
---
Area I: General Education: 76 Credits
---
A transcript evaluation is completed for each student to transfer in up to 90 general education credits. For students to receive block transfer credit for General Education courses, they must meet the standard outlined in the General Education Transfer Credit policy.
Professional Development
Basic Communications
Mathematics and Statistics
Natural Sciences
Arts and Humanities (chose two)
Social and Behavioral Sciences
General Education Elective (Choose Two)
Area II Foundation Requirements: 14 Credits
Undergraduate Nursing (45 transfer credits + 36 credits from South University)
Graduate Nursing (Students must complete core credits and one specialization)
MSN Core: 20 Credits
Specialization in Family Nurse Practitioner: 42 Credits for Specialization, 233 Total Credits for Program
---
For the most up to date information on course requirements, please visit the academic catalog.
Outcomes
Students completing the Nurse Practitioner specialization demonstrate acquisition of the following competencies and proficiencies:

1. Integrate specialty standards of advanced practice nursing to deliver culturally competent, quality healthcare services to individuals, families, populations and systems.
2. Exercise effective leadership, critical thinking and communication skills in the development and implementation of advanced nursing practice services in primary care.
3. Integrate professional nursing standards, values and accountability into role and self development as an advanced practice nurse.
4. Utilize information technology and an evidence-based research approach in the development of nursing knowledge and design of healthcare services for clients, populations and systems.
5. Ensure advanced levels of clinical judgment, systems thinking, and accountability in the implementation and evaluation of evidenced based care to diverse individuals and populations.
success stories
Outstanding Education for Remarkable Careers
We're committed to helping our graduates make impact in their professional and personal lives. We applaud our nursing alumni and the difference they make. Check out what some of our nursing graduates have to say.





Request Information
Fill out the form and a representative will contact you today to better understand your academic goals plus answer any questions you may have.
Campuses offer flexible learning formats including:
on-campus, virtual instructions and online courses.
Success! Your request was submitted. We'll be in touch soon!
In the meantime, you can view some of our FAQs
If you want to talk to an admissions representative ASAP, please contact us at 1-888-444-3404