Online Degree Overview
Master of Science in Information Systems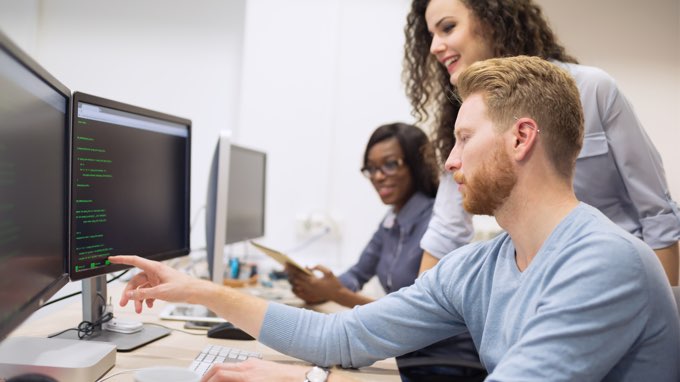 The Online Master of Science in Information Systems program is built to be a technology-focused degree that teaches you how to manage information and technology into the modern age of information. Whether your background is primarily in business or technology, this Online Information Systems degree program can prepare you to seek career advancement and leadership opportunities and make you competitive in this increasingly technology-dependent world.

While earning your master's degree in Information Systems, your classes will cover key technology areas like information systems in converged networks, modern software development methodologies, business intelligence, governance, information security, and emerging technologies. Your courses will also emphasize program management, organizational communication, and strategic thinking, helping you master the principles and practices required to effectively solve real business problems amidst an ever-changing digital world.

earn a degree on your schedule
Help Your Organization Excel in the Information Age
South University offers you the flexibility and control to access your online courses anytime, day or night, so that you can pursue your master of science in information systems degree online, whenever it's most convenient for you. Our experienced, knowledgeable faculty* and staff also make sure that online never means out of touch, supporting you every step of the way as you work to achieve your goals.
Course Requirements
Master of Science in Information Systems: 48 Credits
Foundation of Business Courses (Choose 1): 4 Credits
LEA5125 Leadership Ethics, Culture, and Politics, 4 Credit Hours
MBA5001 Organizational Behavior and Communication, 4 Credit Hours
MBA5004 Managerial Economics, 4 Credit Hours
MBA5005 Law and Ethics for Managers, 4 Credit Hours
MBA5008 Quantitative Analysis and Decision Making, 4 Credit Hours
Foundation Information Systems and Technology: 8 Credits
MIS5020 Information Systems Fundamentals, 4 Credit Hours
MIS5030 Emerging Technologies, 4 Credit Hours
Core: 28 Credits
MIS6000 Principles of System Development, 4 Credit Hours
MIS6010 Project Management, 4 Credit Hours
MIS6020 Corporate Information Systems Management, 4 Credit Hours
MIS6210 Decision Support Systems, 4 Credit Hours
MIS6211 Data Management, 4 Credit Hours
MIS6230 IT Audit, Control, and Compliance, 4 Credit Hours
MIS6250 Organizational Information Security, 4 Credit Hours
Elective (Choose 1): 4 Credits
MIS6160 Information Design and Usability, 4 Credit Hours
MIS6161 Human Computer Interaction, 4 Credit Hours
MIS6212 Cognitive Computing, 4 Credit Hours
MIS6231 Risk Management, 4 Credit Hours
MIS6262 Network Operations Management, 4 Credit Hours
MIS6990 Information Systems Internship, 4 Credit Hours
Capstone: 4 Credits
MIS6995 Information Systems Capstone, 4 Credit Hours
Note(s):
South University, Online Program offerings may not be available to residents of all states.  Please contact an admissions representative for further information.
Admission Requirements
Please see the South University
academic catalog
for program specific admissions requirements.
Outcomes
Upon completion of the Master of Science in Information Systems degree program, graduates should be able to demonstrate skills including:
Understand how information systems impact businesses operations and decision making, and demonstrate an ability to design, develop, analyze, and modify information systems to meet specific business needs.
Communicate clearly, both orally and in writing, an understanding of methodologies to identify, assess, and implement information systems.
Demonstrate discipline-specific knowledge in the following areas: business intelligence, data management, information systems management, information security and risk management, and project management.
Career Outlook
South University's master's degree in Information Systems can prepare you for a career in, or advancement within, a wide range of positions, including:
Computer and Information Systems Managers
Computer and Information Research Scientists
Software Developers, Systems Software
Software Quality Assurance Engineers and Testers
Web Administrators
Geospatial Information Scientists and Technologists
Geographic Information Systems Technicians
Database Architects
Data Warehousing Specialists
Business Intelligence Analysts
Search Marketing Strategists
Document Management Specialists
Online Classroom
Haven't experienced online learning before or wondering what it's like to earn your degree online at South University? While the mode of learning is different from the traditional classroom experience with added convenience and flexibility, we hold the same high standards of academic excellence in the online classroom.
South University's online programs combine a curriculum designed for student outcomes and a classroom designed for flexibility and engagement. Our online classroom learning platform, Brightspace, provides you with a host of features to enhance your learning experience, including:
Advanced media content
Personalized navigation
Simplified online learning atmosphere
Access to digital books
Emailing and instant messaging options
We provide more than just an online classroom, bringing a range of campus experiences and services online. In addition, the online classroom is accessible on the go via mobile devices and with tools like the Pulse App. Pulse helps you stay connected and on track with your course by providing a number of features such as course calendars, readings and assignments, feedback and grades, and announcements.
Read more about online requirements here.
Success Stories
Outstanding Education for Remarkable Careers
We're committed to helping our graduates make impact in their professional and personal lives. We applaud our business and technology alumni and the difference they make.





Request Information
Learn More About the South University Program That's Right For You.
Fill out the form and a representative will contact you today to better understand your academic goals plus answer any questions you may have.
Success! Your request was submitted. We'll be in touch soon!
In the meantime, you can view some of our
FAQs