Online Degree Overview
RN to Master of Science in Nursing in Nurse Administrator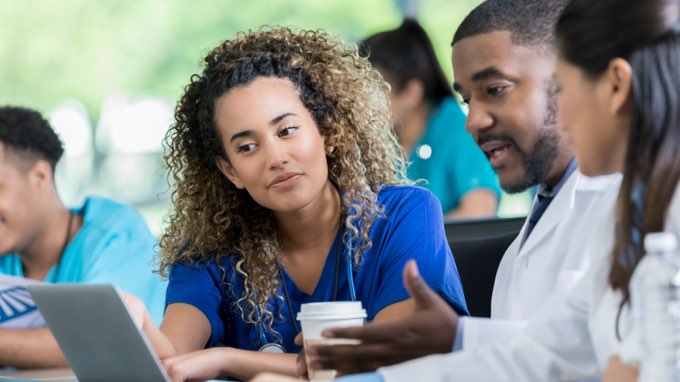 Skilled nurse administrators can transform the care of patients and communities through evidence-based, outcome-oriented nursing leadership, and an unwavering focus on nursing excellence. At South University, the Online RN to Master of Science in Nursing (MSN) with a Specialization in Nurse Administrator degree program can put you on a path to joining the next generation of nursing leaders.

While earning a master's with a Specialization in Nurse Administrator, you can develop knowledge and skills needed for designing healthcare systems, making policy and financial decisions, promoting patient safety and quality care, and incorporating contemporary technology, practice, and ethics into healthcare.

Earn a Degree on Your Schedule
Take the Next Step in Your Nursing Career
The Online RN to MSN degree program at South University is designed to push ambitious students to their potential by combining relevant coursework and applicable experience with supportive faculty and staff and professional environment.
Course Requirements
RN to Master of Science in Nursing
---
Area I: General Education: 76 Credits
---
A transcript evaluation is completed for each student to transfer in up to 90 general education credits. For students to receive block transfer credit for General Education courses, they must meet the standard outlined in the General Education Transfer Credit policy.
Professional Development
Basic Communications
Mathematics and Statistics
Natural Sciences
Arts and Humanities (chose two)
Social and Behavioral Sciences
General Education Elective (Choose Two)
Area II Foundation Requirements: 14 Credits
Undergraduate Nursing (45 transfer credits + 36 credits from South University)
Graduate Nursing (Students must complete core credits and one specialization)
MSN Core: 20 Credits
Specialization in Nurse Administrator: 28 Credits for Specialization, 219 Total Credits for Program
---
Offered at South University, Online Programs.
For the most up to date information on course requirements, please visit the academic catalog.
Admission Requirements
Please see the South University
academic catalog
for program specific admissions requirements.
Outcomes
Upon completing this particular online Master's with a Specialization in Nurse Administrator program, you should be prepared to:
Apply concepts and theories of organizational management and nursing administration to the design of complex healthcare delivery systems.
Incorporate technology, contemporary practice, ethics, and professional standards into the ongoing delivery of healthcare.
Integrate concepts of health policy, regulation, and financing to the organization of healthcare delivery, with a focus on parsimonious and responsible use of resources.
Lead efforts in designing innovative patient safety and quality improvement efforts and effective evaluation of nursing outcome measures.
Employ evidence-based practice in the care of patients with chronic and/or acute illnesses across the lifespan, or in structuring nursing interventions to promote health.
Facilitate the professional development and socialization of diverse nurse populations.
Function as change agents and leaders in healthcare settings domestically and abroad.
Contribute to the development of the science of nursing by engaging in scholarly activities and by promoting the translation of nursing science into patient care outcomes.
Career Outlook
This online MSN with a Specialization in Nurse Administrator program is ideal for RNs who wish to pursue leadership roles such as a Director of Nursing, or Nurse Manager.
Online Classroom
Haven't experienced online learning before or wondering what it's like to earn your degree online at South University? While the mode of learning is different from the traditional classroom experience with added convenience and flexibility, we hold the same high standards of academic excellence in the online classroom.
South University's online programs combine a curriculum designed for student outcomes and a classroom designed for flexibility and engagement. Our online classroom learning platform, Brightspace, provides you with a host of features to enhance your learning experience, including:
Advanced media content
Personalized navigation
Simplified online learning atmosphere
Access to digital books
Emailing and instant messaging options
We provide more than just an online classroom, bringing a range of campus experiences and services online. In addition, the online classroom is accessible on the go via mobile devices and with tools like the Pulse App. Pulse helps you stay connected and on track with your course by providing a number of features such as course calendars, readings and assignments, feedback and grades, and announcements.
Read more about online requirements here.
success stories
Outstanding Education for Remarkable Careers
We're committed to helping our graduates make impact in their professional and personal lives. We applaud our nursing alumni and the difference they make. Check out what some of our graduates have to say.





Request Information
Learn More About the South University Program That's Right For You.
Fill out the form and a representative will call you, or call us at
888-444-3404
to speak with a representative right away.
Success! Your request was submitted. We'll be in touch soon!
In the meantime, you can view some of our
FAQs