South University graduate Janyl Smith, Esq. is an experienced estate planning attorney and private wealth advisor. From her success in law school to starting her own law firm, Janyl has had a number of impressive accomplishments, and it all started with earning her Bachelor of Science in Legal Studies from South University, West Palm Beach in 2013.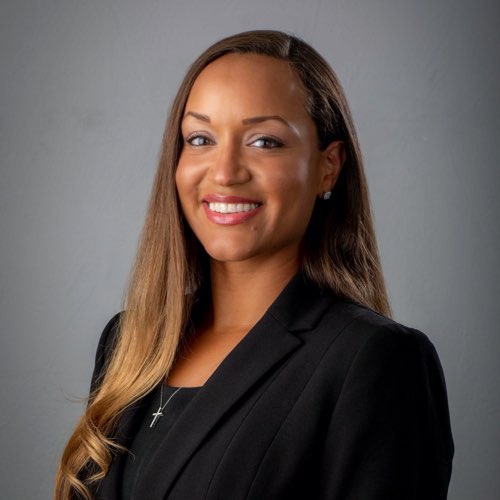 Janyl first developed an interest in estate planning and law while working in financial services. She realized that she wanted to go back to school to finish her bachelor's degree and then go to law school to become an attorney. "I wanted as much exposure and legal knowledge as possible prior to attending law school," she explains. "I selected South University because of the ABA-approved Legal Studies program and the in-person and online class schedules, which allowed me to continue to work while pursuing my degree."
Not only were the evening, weekend, and online courses a good fit, but Janyl also found valuable mentorship at South University. "The faculty and staff had an incredible impact on me," she shares. "My program director was instrumental in my journey to becoming a lawyer."
Janyl also appreciated South University introducing her to the Socratic method of teaching used in law school as well as the way her professors hammered home the importance of always being prepared – something that has been essential to her success in law school and in practice. While earning her first degree wasn't always easy, the challenge equipped her well for the road ahead.
"My last quarter at South University, I was cleared to take 27 credits of both in-person and online classes in order to graduate early," recalls Janyl. "I had to keep up with all of my course work, make sure my grades were excellent so I would be a competitive law school applicant, and maintain my full-time position as a financial advisor. While it was a stressful time, it prepared me for the intensity of law school, bar exam preparation, and being a practicing attorney."
After finishing her Legal Studies program at South University, Janyl earned both a Juris Doctor and Master of Laws in Taxation from the University of Miami School of Law. During law school, she worked as a judicial intern for the Honorable Marcia G. Cooke of the U.S. District Court for the Southern District of Florida. Through a HOPE Fellowship, Janyl also became immersed in public interest law with a Florida chapter of a national non-profit organization.
As Editor-in-Chief of the University of Miami Race and Social Justice Law Review journal, Janyl published thoughtful, informative pieces such as "The Resurgence of Debtors' Prison: The For-Profit Criminalization of the Impoverished" and "The Legacy of Slavery, Cognitive Shortcuts, and Biased News: The Mass Media's Vilification of Black Males and the Resulting 'Reasonableness' of Excessive Force by Law Enforcement." In addition, she assembled a panel of distinguished speakers from across the US for a symposium discussing the impacts of mass incarceration. Janyl was Academic Chair of the Black Law Students Association and earned membership to both the Society of Bar and Gavel, the highest honor attained at the University of Miami School of Law, and Iron Arrow, the highest honor attained at the University of Miami.
Now a member of the Florida Bar, Janyl has her own estate planning firm and is a wealth advisor to select clients. She also works in an "Of Counsel" capacity at another law firm focused on estate planning. Janyl is a member of the Real Property, Probate & Trust Section of The Florida Bar; Tax Section of The Florida Bar; Young Lawyers Section of The Florida Bar; Broward County Bar Association; and T.J. Reddick Bar Association.
Ready to pursue your goals? Whether you're interested in a pursuing a career in legal studies, or perhaps an entirely different field, South University offers programs in a variety of areas, including those in Criminal Justice & Legal Studies, Business & Technology, Public Administration, Counseling & Psychology, Public Health, Nursing, Healthcare and more. To connect with a South University representative about your interests and aspirations, request information today.
Or, if you're a South University alum, we'd love to hear about your accomplishments too! Log in to our Alumni Site and click Share Your Story in the Alumni Success section.