Online Degree Overview
Doctor of Business Administration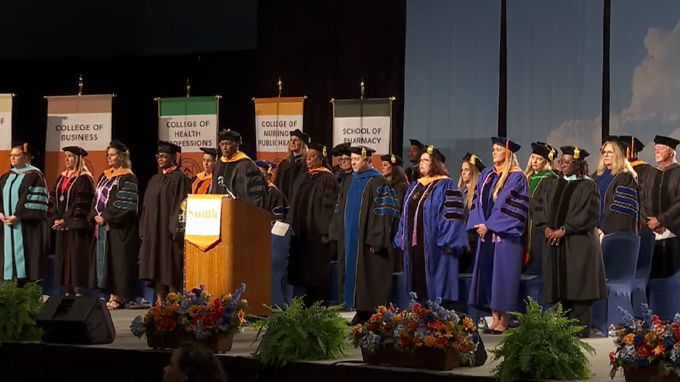 Whether you want to lead college business classes or executive board meetings, the Doctor of Business Administration (DBA) online degree program at South University can help you prepare for your next career move. Utilizing real-world experiences, our dedicated, qualified faculty will teach you specialized business knowledge, research skills, and techniques for communicating about complex concepts. In this online DBA program, you'll study current business research, analyze and practice research methods, and develop your own methodologies for teaching business concepts. As an online DBA student, you'll gain valuable experience by participating in two in-person residencies and teaching an online course under the mentorship of a South University faculty member.

Focusing on teaching, scholarship, and service, the online DBA program not only mirrors the performance criteria for faculty in higher education, but also ultimately prepares you to make important contributions within the academic and professional business communities.

earn a degree on your schedule
Take Your Career in Business to the Next Level
South University offers you the flexibility and control to access your online courses anytime, day or night, so that you can pursue your doctor of business administration degree online, whenever it's most convenient for you. Our experienced, knowledgeable faculty* and staff also make sure that online never means out of touch, supporting you every step of the way as you work to achieve your goals.
Admission Requirements
Please see the South University
academic catalog
for program specific admissions requirements.
Course Requirements
Doctor of Business Administration: 72 Credits
Foundation: 4 Credits
BUS7000 Introduction to the Professional Doctorate, 4 Credit Hours
BUS7001 Virtual Residency I, 0 Credit Hours
BUS7002 Virtual Residency II, 0 Credit Hours
*Residency Required for Fully Online Students Only
Major Courses: 24 Credits
MGT7100 Seminar in Organizational Behavior, 4 Credit Hours
MGT7105 Seminar in Group and Team Behavior, 4 Credit Hours
MGT7110 Seminar in Organizational Theory, 4 Credit Hours
MGT7115 Seminar in Leadership, 4 Credit Hours
MGT7200 Seminar in Organizational Development and Change, 4 Credit Hours
MGT7205 Seminar in Ethics and Social Responsibility, 4 Credit Hours
BUS8000 Comprehensive Exam, 0 Credit Hours
Research Methods/Statistics: 16 Credits
BUS7100 Research Methods I, 4 Credit Hours
BUS7105 Research Methods II, 4 Credit Hours
BUS7200 Statistics for Research Methods I, 4 Credit Hours
BUS7205 Statistics for Research Methods II, 4 Credit Hours
Teaching in Higher Education: 8 Credits
INS7115 College Teaching, 4 Credit Hours
INS7200 Instructional Design, 4 Credit Hours
Dissertation: 20+ Credits
BUS8100 Doctoral Dissertation Research Development, 4 Credit Hours
(may be repeated using course code BUS8100E 4 credit hours)
BUS8105 Doctoral Dissertation Proposal, 4 Credit Hours
(may be repeated using course code BUS8105E 4 credit hours)
BUS8110 Doctoral Dissertation Proposal Defense, 4 Credit Hours
(may be repeated using course code BUS8110E 4 credit hours)
BUS8115 Doctoral Dissertation Preparation, 4 Credit Hours
(may be repeated using course code BUS8115E 4 credit hours)
BUS8120 Doctoral Dissertation Defense, 4 Credit Hours
(may be repeated using course code BUS8120E 4 credit hours)
Note(s):
*Refer to the DBA Progressions Policy
South University, Online Program Offerings may not be available to residents of all states.  Please contact an admissions representative for further information.
Outcomes
Upon completing your dissertation and the entire Doctor of Business Administration Online program, you should be able to:
Apply critical thinking skills to analyze and apply contemporary theory within their discipline and make contributions to the business administration knowledge base.
Comprehend and apply the concepts, principles, and methods of researching business topics, and develop research designs using scientific investigation and systematic inquiry in an area of management. Emphasis will be placed upon directing research for peer reviewed journals, business practices, and consulting assignments.
Demonstrate a thorough understanding and practice of teaching and managing courses in higher education.
Demonstrate excellent oral and written communication related to the academic and professional environment. Students will demonstrate these skills in their coursework, instructional activities, and the dissertation.
Career Outlook
The Doctor of Business Administration online program is built to prepare you to:
Seek faculty positions in academic institutions
Pursue advancement in positions of executive or senior management responsibility
Engage in business and management consulting roles
Online Classroom
Haven't experienced online learning before or wondering what it's like to earn your degree online at South University? While the mode of learning is different from the traditional classroom experience with added convenience and flexibility, we hold the same high standards of academic excellence in the online classroom.
South University's online programs combine a curriculum designed for student outcomes and a classroom designed for flexibility and engagement. Our online classroom learning platform, Brightspace, provides you with a host of features to enhance your learning experience, including:
Advanced media content
Personalized navigation
Simplified online learning atmosphere
Access to digital books
Emailing and instant messaging options
We provide more than just an online classroom, bringing a range of campus experiences and services online. In addition, the online classroom is accessible on the go via mobile devices and with tools like the Pulse App. Pulse helps you stay connected and on track with your course by providing a number of features such as course calendars, readings and assignments, feedback and grades, and announcements.
Read more about online requirements here.
Request Information
Learn More About the South University Program That's Right For You.
Fill out the form and a representative will contact you today to better understand your academic goals plus answer any questions you may have.
Success! Your request was submitted. We'll be in touch soon!
In the meantime, you can view some of our
FAQs
Success Stories
Outstanding Education for Remarkable Careers
We're committed to helping our graduates make impact in their professional and personal lives. We applaud our business and technology alumni and the difference they make.