Criminal Justice
Degree Overview
Master of Science in Criminal Justice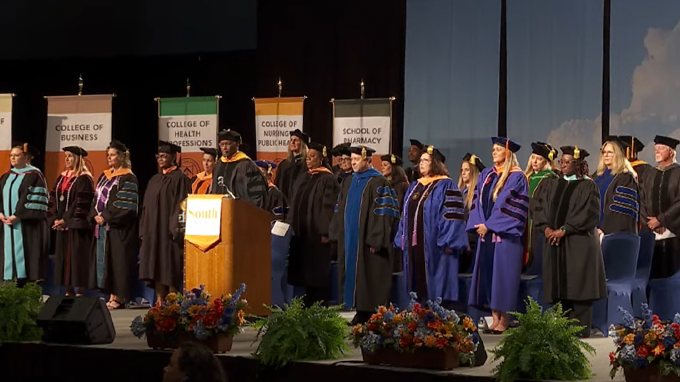 Earn your master's in criminal justice online from South University. The Master of Science in Criminal Justice program dives into the historical and contemporary criminal justice system, examining relationships among law enforcement, the courts, and corrections. Prerequisites for the graduate criminal justice program are limited so that qualified students with bachelor's degrees in related fields such as criminology, psychology, business or public administration, anthropology, political science, sociology or related social sciences may enroll, along with students who have undergraduate degrees in criminal justice.
Upon completion of the Master of Science in Criminal Justice program, you can choose to enter doctoral programs in related fields or seek a leadership position within law enforcement, corrections, local and state government, or legal institutions*.
Please note: While you may be able to take some general education courses at the campuses, all other courses, including specialized courses, will be taken online.
*South University does not promise or guarantee employment.

Focused and Flexible
Each degree program at South University is designed to push ambitious students to their potential by combining relevant coursework and applicable experience with a supportive faculty and professional environment. Discover a South University campus for this program.
Locations
South University Campuses
Discover the benefits of an education from all South University locations. Since 1899, South University has committed to the professional, social, intellectual, and personal development of our diverse students by providing a faculty that lends professional experience to the learning experience, and a student body that shares a goal of professional fulfillment.
* Not all programs at campuses are offered Online.
success sTories
Outstanding Education for Remarkable Careers
We're committed to helping our graduates make an impact in their professional and personal lives. We applaud our alumni and the difference they make. Check out what some of our Criminal Justice & Legal Studies graduates have to say.





Request Information
Fill out the form and a representative will contact you today to better understand your academic goals plus answer any questions you may have.
Campuses offer flexible learning formats including:
on-campus, virtual instructions and online courses.
Success! Your request was submitted. We'll be in touch soon!
In the meantime, you can view some of our FAQs
If you want to talk to an admissions representative ASAP, please contact us at 1-888-444-3404