Family Nurse Practitioner PGC
Degree Overview
Family Nurse Practitioner Post Graduate Certificate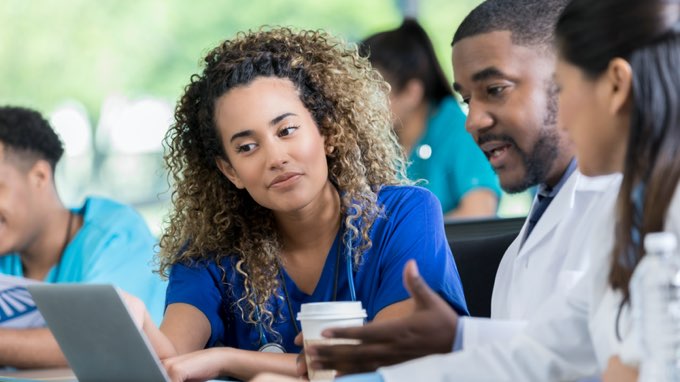 Providing direct advanced practice nursing services to patients across the lifespan takes specialized knowledge and highly tuned decision-making skills. At South University, the Family Nurse Practitioner Post Graduate Certificate program can prepare you with the expertise you need to provide care for individuals and families in your community.
This post graduate certificate program is designed for nurses who already hold a master's degree that prepared them to practice in another advanced nursing role. The online Family Nurse Practitioner program's curriculum can be completed in as little as 16 months.
NOTICE: South University has received communication from the Commission on Collegiate Nursing Education (CCNE) placing our MSN FNP-PGC and MSN AGNP-PGC programs on show cause. South will be providing additional information on the success of students in our APRN Post Graduate Certificate Programs to CCNE in August 2022. Students wanting to know more about this can view this information on page 17 of the Procedure Manual for CCNE. It is our responsibility as a University to inform our current and prospective students of this status. Please note, our program remains accredited by CCNE during this process. If you need further information, please contact me via email at dsperlazzaanthony@southuniversity.edu.
Admission Requirements
Please see the South University
academic catalog
for program specific admissions requirements.
Course Requirements
Family Nurse Practitioner Post Graduate Certificate: 42 Credits
NSG6001 Advanced Nursing Practice I, 4 Credit Hours
NSG6005 Advanced Pharmacology, 4 Credit Hours
NSG6020 Advanced Health and Physical Assessment, 6 Credit Hours
NSG6021 Pre-Clinical Evaluation, 0 Credit Hours
NSG6420 Practicum I: Family Health - Adult and Gerontology, 6 Credit Hours
NSG6430 Practicum II: Family Health- Women's Health, 6 Credit Hours
NSG6435 Practicum III: Family Health - Pediatrics, 6 Credit Hours
NSG6440 Practicum IV: Family Health - Primary Care, 6 Credit Hours
NSG6999 Graduate Project in Nursing, 4 Credit Hours
Note(s):
*If the student receives a failing grade in NSG6021, the student must enroll in and successfully pass the following four (4)-credit course: NSG6023 Nurse Practitioner Enhancement.
Outcomes
Offered at Columbia, Online Programs, Richmond, Savannah, Tampa and Virginia Beach.
Note: Not all Online Program offerings are available to residents of all U.S. states. Please contact an admissions representative for further information.
Program Description
The Post Graduate Certificate in Family Nurse Practitioner is a 42-credit hour program designed for individuals who hold a master's degree in nursing that has prepared them for practice in another advanced role or in an advanced nursing specialty. The certificate program provides students the knowledge and decision making skills to provide direct advanced practice nursing health care services to individuals across the life span.
Post-master's students must successfully complete graduate didactic and clinical requirements of the master's specialization and are expected to master the same outcome competencies as master's students pursuing an MSN with a specialization in Family Nurse Practitioner, including the master's core competencies and the specialization competencies.
Courses may be waived if the individual's master's transcript indicates that s/he has successfully completed the required course or its equivalent. Waivers and exceptions will be determined for individual students through a gap analysis as determined by the Program Director or College Dean.
Program Student Learning Outcomes
Graduates should be able to:
Synthesize theories and concepts from nursing and other disciplines for application in advanced nursing roles.
Analyze current scientific research for application of findings to initiate change and to improve practice.
Create comprehensive plans of action that address the health promotion and disease prevention needs of individual, family, and community populations.
Formulate a plan for ongoing contributions to improvement of healthcare delivery and development of health policy in a cost-effective manner.
Apply an ethical decision-making process in professional practice and an analysis of systems of healthcare.
Model a professional leadership role that fosters improvement of healthcare and advocates scholarly activities to advance self and profession.
Employ informatics and technology in various aspects of the advanced nursing leadership role.
Practice within ethical-legal guidelines, professional policies and regulations, and standards of practice associated with a specialty area of advanced nursing practice.
Specialized Program Student Learning Outcomes:
Integrate specialty standards of advanced practice nursing to deliver culturally competent, quality health care services to individuals, families, populations and systems.
Exercise effective leadership, critical thinking and communication skills in the development and implementation of advanced nursing practice services in Primary Care.
Integrate professional nursing standards, values and accountability into role and self-development as an advanced practice nurse.
Utilize information technology and an evidence-based research approach development of nursing knowledge and design of health care services for clients, populations and systems.
Ensure advanced levels of clinical judgment, systems thinking, and accountability in the implementation and evaluation of evidenced based care to diverse individuals and populations.
Request Information
Fill out the form and a representative will contact you today to better understand your academic goals plus answer any questions you may have.
Campuses offer flexible learning formats including:
on-campus, virtual instructions and online courses.
Success! Your request was submitted. We'll be in touch soon!
In the meantime, you can view some of our FAQs
If you want to talk to an admissions representative ASAP, please contact us at 1-888-444-3404
success stories
Outstanding Education for Remarkable Careers
We're committed to helping our graduates make impact in their professional and personal lives. We applaud our nursing alumni and the difference they make. Check out what some of our nursing graduates have to say.






Commission on Collegiate Nursing Education
The Bachelor of Science in Nursing, the Master of Science in Nursing, Doctor of Nursing Practice, and Post-Graduate APRN Certificate Programs are accredited by the Commission on Collegiate Nursing Education (http://www.ccneaccreditation.org).