Doctor of Business Administration
Degree Overview
Doctor of Business Administration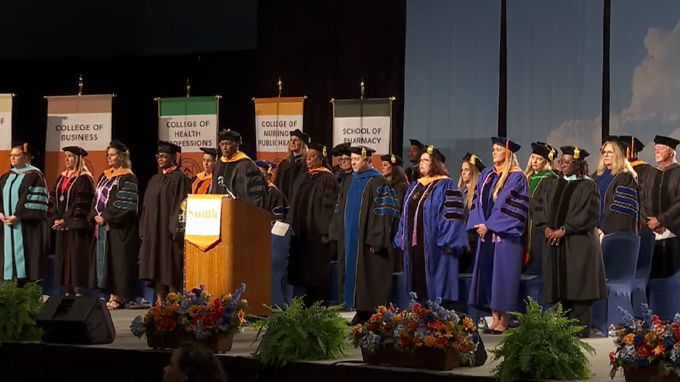 Whether you want to lead college business classes or executive board meetings, South University Savannah's Doctor of Business Administration program can help you prepare for your next step as a professional. Offered in our new Online + On Campus learning format, you will have the opportunity to learn alongside your peers while still having the capacity to meet the demands of your current career. The first week of the quarter is spent in the classroom, getting to know classmates and faculty, followed by an alternating schedule of one week online and one week on campus.
By utilizing real-world experiences, our dedicated faculty will teach you specialized business knowledge, research skills, and techniques for communicating complex concepts. This program includes studying current business research, analyzing and practicing research methods, and developing your own methodologies for teaching business concepts. You can also gain valuable experience by participating in two residencies and teaching an online course under the mentorship of a South University faculty member.

Earn Your Degree
Take Your Business Career to the Next Level
The DBA degree program at South University is designed to push ambitious students to their potential by combining relevant coursework and applicable experience with supportive faculty and staff and professional environment.
Course Requirements
Doctor of Business Administration: 72 Credits
Foundation: 4 Credits
BUS7000 Introduction to the Professional Doctorate, 4 Credit Hours
BUS7001 Virtual Residency I, 0 Credit Hours
BUS7002 Virtual Residency II, 0 Credit Hours
*Residency Required for Fully Online Students Only
Major Courses: 24 Credits
MGT7100 Seminar in Organizational Behavior, 4 Credit Hours
MGT7105 Seminar in Group and Team Behavior, 4 Credit Hours
MGT7110 Seminar in Organizational Theory, 4 Credit Hours
MGT7115 Seminar in Leadership, 4 Credit Hours
MGT7200 Seminar in Organizational Development and Change, 4 Credit Hours
BUS8000 Comprehensive Exam, 0 Credit Hours
MGT7205 Seminar in Ethics and Social Responsibility, 4 Credit Hours
Research Methods/Statistics: 16 Credits
BUS7100 Research Methods I, 4 Credit Hours
BUS7105 Research Methods II, 4 Credit Hours
BUS7200 Statistics for Research Methods I, 4 Credit Hours
BUS7205 Statistics for Research Methods II, 4 Credit Hours
Teaching in Higher Education: 8 Credits
INS7115 College Teaching, 4 Credit Hours
INS7200 Instructional Design, 4 Credit Hours
Dissertation: 20+ Credits
BUS8100 Doctoral Dissertation Research Development, 4 Credit Hours
(may be repeated using course code BUS8100E 4 credit hours)
BUS8105 Doctoral Dissertation Proposal, 4 Credit Hours
(may be repeated using course code BUS8105E 4 credit hours)
BUS8110 Doctoral Dissertation Proposal Defense, 4 Credit Hours
(may be repeated using course code BUS8110E 4 credit hours)
BUS8115 Doctoral Dissertation Preparation, 4 Credit Hours
(may be repeated using course code BUS8115E 4 credit hours)
BUS8120 Doctoral Dissertation Defense, 4 Credit Hours
(may be repeated using course code BUS8120E 4 credit hours)
Note(s):
*Refer to the DBA Progressions Policy
South University, Online Program Offerings may not be available to residents of all states.  Please contact an admissions representative for further information.
Admission Requirements
Please see the South University
academic catalog
for program specific admissions requirements.
Outcomes
Upon completion of the DBA program, students should be capable of the following:
Apply critical thinking skills to analyze contemporary theory with their discipline.
Integrate contemporary theory into cogent paradigms.
Make contributions to the business administration knowledge base.
Comprehend and apply the concepts, principles, and methods of researching business topics for peer reviewed journals, business practices, and consulting assignments.
Demonstrate a thorough understanding and practice of teaching management courses in higher education.
Develop research designs using scientific investigation and systematic inquiry in an area of management.
Provide valuable service to their academic and professional community.
Demonstrate excellent oral and written communication related to their field.
Career Outlook
The Doctor of Business Administration program is built to prepare you for faculty positions in academic institutions, advancement in positions of executive or senior management, and improved engagement in business and management consulting roles.
Success Stories
Outstanding Education for Remarkable Careers
We're committed to helping our graduates make impact in their professional and personal lives. We applaud our business and technology alumni and the difference they make.





Request Information
Learn More About the South University Program That's Right For You.
Fill out the form and a representative will call you, or call us at
888-444-3404
to speak with a representative right away.
Success! Your request was submitted. We'll be in touch soon!
In the meantime, you can view some of our
FAQs